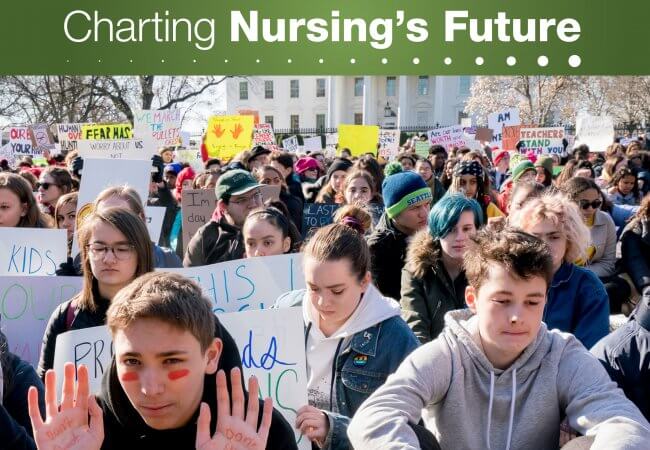 Nurses Push to Bring Research Back Into the Gun Violence Debate
Nurses are on the front lines of gun violence, and it's not just in the emergency room. For the country's estimated 80,000 school nurses, the epidemic of gun violence is also up close and personal. That's why the National Association of School Nurses (NASN) has joined with other professional nursing associations to advocate for measures that could help reduce the number of people shot and killed.
School nurses are being called to duty not just in schools where shootings occur. The daily barrage of news and other information, especially after a school shooting, impacts students of all ages, and has created far more generalized anxiety among them than in the past, says Nina Fekaris, MS, BSN, RN, president of NASN. "From a health standpoint, we're the first line that catches these trends," she says.
In 2016, the Centers for Disease Control and Prevention (CDC) pegged the total number of gun deaths, including those from suicide, at 38,658, surpassing the 37,461 people who lost their lives in car crashes that same year. The CDC is one of the country's leading health research organizations, but for the past 22 years the federal agency has been strongly discouraged from conducting any research into gun violence.
In 1996, U.S. Rep. Jay Dickey (R-Ark.) added language to the annual legislation funding the CDC, which said:  "[N]one of the funds made available for injury prevention and control at the CDC may be used to advocate or promote gun control."
Although that "Dickey Amendment" does not specifically forbid research into gun violence, scientists say it has had a demonstrably chilling effect, since any request for funding to study gun violence could easily be construed as advocating gun control.
It's not clear whether that will change—although advocates are hopeful that a sentence inserted into the massive 2,232-page omnibus spending bill, which became law on March 23, will challenge the status quo. That sentence notes simply that while the CDC cannot use any funding to "advocate or promote gun control, the Secretary of Health and Human Services has stated the CDC has the authority to conduct research on the causes of gun violence."
The language comes from testimony by Health and Human Services Secretary Alex Azar when he spoke on Capitol Hill the day after a Valentine's Day massacre at Marjory Stoneman Douglas High School in Parkland, Florida. The shooting injured 17 people and killed 17 others, including 14 students.
Because the operative language of the Dickey Amendment remains law— and because any research involving gun violence could still be construed as "advocating or promoting" gun control—many observers believe the inserted sentence is unlikely to jumpstart research.
A bill to repeal the Dickey Amendment outright was introduced by U.S. Rep. Stephanie Murphy (D-Fla.) shortly after she took office in January 2017. The national school nurse association joined with 45 other professional nursing organizations to sign on to a March 22 letter to Murphy, applauding her efforts to move the bill forward and offering the signers' support. "As a profession driven by science and advocacy, this is a common-sense solution," the Nursing Community Coalition wrote. But the bill remains stalled.
For her part, Fekaris agrees that the omnibus language will not be enough. "Just looking at the cause of gun violence does not give us the whole picture of guns in today's America," she emailed following passage of the bill. "We need to be able to look at education and prevention, neither of which are allowed under the current restrictions."
For school nurses, says Fekaris, it's not just a matter of identifying potential mass shooters. Far more often, her peers are dealing with students who have witnessed gun violence up close or have been so scared by the news of school shootings that their educational performance is suffering.
Fekaris says the problem is especially acute for school nurses who work in communities, from inner cities to rural areas, where guns are common. "What's the best way for us to support those kids?" she asks. "This is where we need research. What does gun violence do, how does it affect kids, how can we support kids in dealing with this?"
"Without data, we're using what we think is right," continues Fekaris. "But without that evidence, it's hard to go to the school board and say, 'We want to implement this curriculum, this certain approach.'"
She points to the well-recognized assessment tool, the Columbia-Suicide Severity Rating Scale (C-SSRS), which can help determine whether a student is at risk for suicide. "Could there be a tool like that based around gun violence that also has those same red flags?" she wonders.
Without a repeal of the Dickey Amendment, and the resumption of CDC-sponsored gun violence research, she knows it will be tough to come up with an answer.