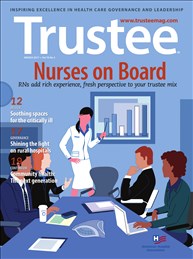 Nurses "Expand Depth of Knowledge," Reinhard Writes in Trustee Magazine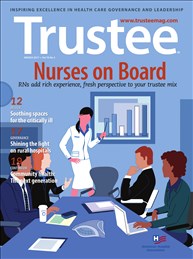 Susan Reinhard, RN, PhD, FAAN, is chief strategist for the Center to Champion Nursing in America, senior vice president and director of AARP's Public Policy Institute, and serves on seven boards. She is also a registered nurse. For all those reasons, Trustee magazine recently asked her to write about nurses serving on boards.
There's a correlation between the number of nurse trustees at hospitals and better performance in both quality and safety, writes Reinhard in this month's cover story of Trustee, a publication aimed at hospital CEOs. Reinhard gives several examples of how she and other nurses have given fellow trustees information gleaned from being a nurse that helped shaped better board decisions that led to higher quality health and safety, information that came from day-to-day experience at seeing health care at multiple levels. And, she writes, "not just hospital boards" benefit when nurses advise as directors: "The nurse mindset can add value to every type of group."  Reinhard also tallies the relatively low number of nurses on boards, and in an accompanying column, lists ways boards can find the nurses to serve on their boards. Hint: many are hiding in plain sight by already serving their communities in other ways.