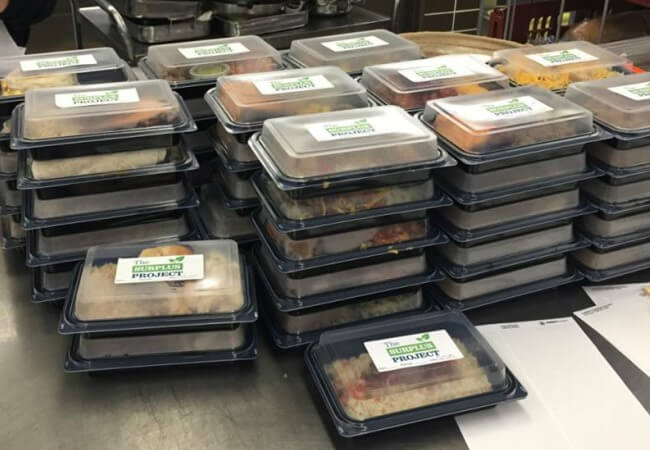 Nurse Turns Surplus Into Better Health
"Too much hunger, too much waste, too much food" sums up the intertwined problems that Jennifer M. Grenier MSN, RN-BC, is helping untangle. Working closely with community partners in Chicago, Grenier is seeing to it that good food is put to good use—and that the hungry get health screenings as well as meals.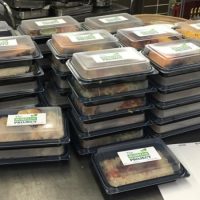 It's called The Surplus Project, and in 2016 alone, 6,000 pounds of food bound for landfills has been turned into 5,600 meals served at food pantries.
It started in spring 2015, when Grenier was director of telemetry at Rush Oak Park Hospital, overseeing the hospital's use of specialized equipment to monitor patients. Equally important, she was part of a local leadership program that asked her to create a project that met a community need. Her partner in brainstorming was Beth Klein of the Oak Park River Forest Food Pantry. Grenier knew that a number of patients came to the hospital hungry. Thus was born The Surplus Project.
Grenier and Klein started with the kitchen at Rush Oak Park Hospital, where sandwiches, vegetables and lasagna were among uneaten edibles that were routinely tossed. Support from all quarters was strong and immediate: Giving time and money was none other than the hospital's president and CEO, Bruce Elegant. Now, some 20 staff members certified to handle food are volunteers helping package the meals.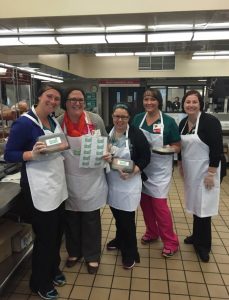 An unexpected bonus, says Grenier, is that it has brought staff members together; a nurse might exchange a high-five with, say, a dishwasher after they've spent time tucking cooked carrots and rice into boxes to be delivered to the food pantry.
Another unplanned benefit was how naturally The Surplus Project evolved so that nurses came to offer health screenings with the meals.
Grenier soon learned that those who are "food insecure" are not necessarily homeless or unemployed. For people who struggle to make ends meet, food goes on the list of what can be cut for the day. And those who eat what they can, when they can, are also at greater risk of developing health problems such as diabetes and hypertension.
That's why nurses decided to start delivering, along with the meals, blood pressure screenings, nutritional assessments, and body-mass index calculations. When food is served, RNs on The Surplus Project team stand by, literally, to answer health care questions.
The Project Expands
Oak Park River Food Pantry executive director Michele Zurakowski has been involved from the start, and she, along with nurse-entrepreneur Grenier and Klein, this past February wangled the top prize of $50,000 at the Big Idea Pitch Party sponsored by Oak Park and River Forest Community Foundation.
Needless to say, the money joins the cycle of making good use of good resources. To waste less, feed more, Grenier and Klein had been eyeing other kitchens and other places serving meals. Eighteen months after the start of The Surplus Project, three others have joined the hospital as food donors (including a local grocery store and high school), providing meals to a total of five sites.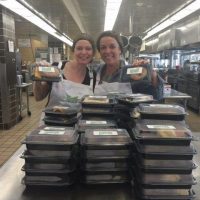 Grenier has been taking on more, as well. Six months ago, she became director of nursing rehab at Rush University Medical Center (which, she notes, has 15 kitchens—15 more opportunities to make use of food). A board member of the Illinois Organization of Nurse Leaders, Grenier was named a 40-Under-40 Emerging Nurse Leader by the Illinois Healthcare Action Coalition.  And, by the way, she is getting her doctorate degree, in system leadership.
Grenier considers this project to be a logical aspect of nursing and good health. "We make sure patients have their medications, their medical supplies, etc. But we never ask, 'Do you have enough food in order to heal properly'?"
With The Surplus Project, Grenier and others in Chicago are providing needed answers.