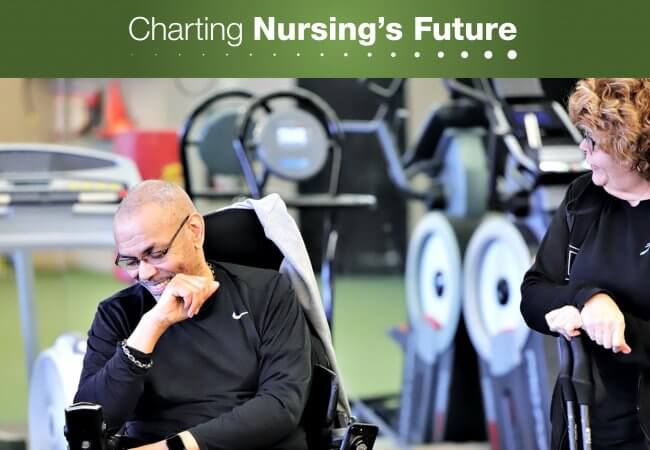 Nurse-led Program Is Game-Changer for People with MS
Unless an event grabs your attention during Multiple Sclerosis Awareness Month in March, you may give little thought to multiple sclerosis (MS). But Kathleen Healey, PhD, APRN, thinks about this unpredictable disease all year long. In fact, Healey, assistant professor in the Department of Neurological Sciences at the University of Nebraska Medical Center, has made MS the focus of her career.
While Healey has seen progress in MS treatment and research, she noticed a gap in care for people with MS whose disabilities make it difficult for them to leave home. She and her colleagues resolved to serve "the entire group of people with MS, not just those in the early stages, or those doing well with new medications."
To this end, in 2014 they started a house-call program to provide primary care to homebound people with MS. The program's success showed Healey the participants' keen desire to be less alone, and she realized she needed to go further.
She collaborated with a local gym owner who also happens to have MS, and the concept for a day program called EASE (exercise, advocacy, socialization, education) was born. The Multiple Sclerosis Foundation agreed to fund a pilot, including transportation, program fees, and lunches, and in 2017, gym owner, Daryl Kucera, opened his facility to EASE participants five hours a day, twice a week for exercise classes, advocacy meetings, social events, and educational programming.
"Our goal for EASE," says Healey, "was to get our house-call patients who had become medically stabilized and self-sufficient out into the community." When developing programming, Healey and her colleagues took what they call a "comprehensivist" approach, a term they use to describe care delivery that includes a knowledge of systems, attention to health maintenance, and an interest in social and spiritual well-being, in addition to their MS expertise. "As comprehensivists," Healey says, "we focused our planning on multiple areas of empowerment."
Exercise was an obvious place to start, because, in addition to its health benefits, building stronger muscles is empowering. Another important component of EASE is health education, coordinated by Aubrie Lindner, MA. "Complications from disability—things like pneumonia, urinary tract infections, and bedsores—are typically what can put a person in the hospital," says Healey. "The educational piece of EASE frequently focuses on how to prevent these complications."
An even more empowering element of EASE is the social aspect. Individuals with MS can experience a range of challenges, including muscle weakness and issues with coordination, vision, and bladder and bowel function. "These things combine to hinder mobility," Healey says, "which in turn affects access to employment, housing, transportation, and health care," and puts people at risk for social isolation. The EASE program combats these challenges by creating community.
"The participants all support each other," says Healey. "They have become a family." One EASE participant says, "We trust each other, we challenge each other…and we make each other laugh." Another, who gained enough confidence to make a solo trip from Omaha to see a Detroit Tigers baseball game, says, "I feel like I am living again."
That rejuvenation is also reflected in the physical health of the "First Six," those individuals from the house-call program chosen by Healey to participate in EASE. Their incidence of medical complications has dropped significantly since joining the program. Now the group, which has grown to the "Great Eight," is reaching out. "They're networking!" Healey reports, using videoconferencing to share their knowledge and experience with others who have MS. The program is so valued by the participants that they've used their advocacy training to secure funding from a local business to keep the EASE program going.
When asked about the future, Healey says, "We are at a transition point. We need to start thinking about how to expand this program to include individuals who would require medical attention during their time at the day program. This will involve things like state licensing for the facility and use of clinically-trained volunteers." Although this next phase will be complicated, Healey is determined to see it through. "We need programs like this," she believes, "to serve people with MS who want to stay busy and engaged."
Resources
MS Forward. The 501(C)(3) not-for-profit gym, whose owner also has MS, that partnered with Healey to provide a site for EASE.
Multiple Sclerosis Foundation. Provided the grant that funded the first year of EASE.
MS & Me YouTube video. Written by Kathleen Healey to raise awareness about the struggles faced by individuals with MS and significant disability.