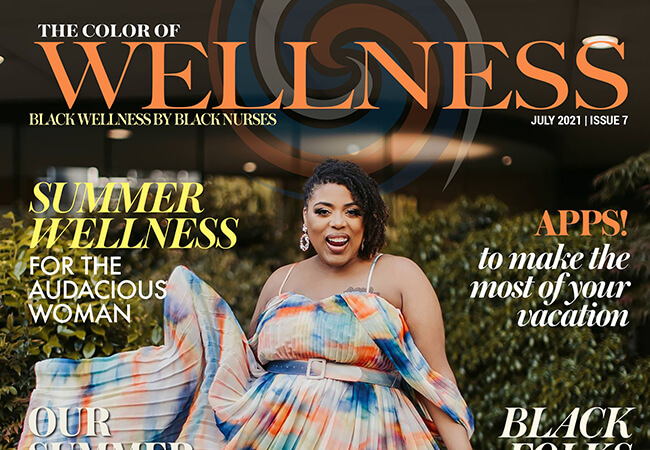 New Magazine Powered by Black Nurses Takes on Health Equity Challenges
In the midst of a pandemic that was killing Black people at more than twice the rate of their white counterparts, Michelle Greene Rhodes (MHS, RN, CMCN) found herself wondering what she could do.
Rhodes saw her fellow nurses doing everything from contact tracing to intubations, but her skill set was a little different. Following a career as a specialist in managed care, Rhodes had built a practice helping her fellow nurses become speakers, authors, and entrepreneurs. Now she saw an opportunity to use the network she had built to address the inequities revealed by the COVID-19 pandemic.
But the outcome of her efforts wasn't a community clinic or a scientific paper. Instead, it was a glossy magazine: The Color of Wellness, a magazine led by Black nurses that focuses on the health needs of the Black community.
"When I saw my colleagues out there on the frontlines, I went through a period of guilt when I first starting seeing the pictures and stories of horror," Rhodes said. "My nursing background was in managed care. The common theme is looking at data, looking at prices, looking at health care costs. I believe the Lord turned on a light for me and said, use that."
Rhodes imagined a magazine organized around the audiences and themes that lead to the most entrenched health problems for the Black population. She decided to recruit a nurse for each theme, seeking out leaders using resources she had developed over her career (such as a Facebook group for nurses interested in entrepreneurship).
"I was thinking about what would make the biggest impact when we released this to communities," she said. "We needed someone to think about teens, someone to think about women, someone to think about men, someone to think about the military, and so on."
Since January, Rhodes and her team have produced seven issues of The Color of Wellness. Topics addressed include everything from mental illness and work-life balance to tips on sunscreen and vacation planning.
The common theme is encouraging wellness behaviors that can prevent some of the most persistent chronic health issues Rhodes saw in her managed care career. But she is also considering how to more explicitly address health equity in future issues.
"I believe we provide a solution to health inequity because we can relay the right messages but still remain relatable to the communities that we serve," Rhodes said.
Health equity is also central to Rhodes's expansion plans for the magazine and related efforts. She envisions the same team of nurses that designed the magazine's core content delivering workshops on the same themes in vulnerable communities. She also hopes to work with health systems who could use the magazine as a way to connect with patients and other stakeholders.
"I don't just want to get this into the hands of diversity and equity officers," she said. "I'm hoping that The Color of Wellness can help bring institutions closer to the vulnerable communities that they serve."
Like Rhodes, many nurses are now considering how they can better address health equity through a new phase in their careers. As the latest National Academy of Medicine report on the future of nursing argues, it's an essential problem for the next decade and beyond.
It's also a problem Rhodes has pondered in her role as an entrepreneurial coach to nurses. No matter the individual circumstances, she argues, finding the right path requires nurses to do some soul-searching about their core purpose or motivation.
In her case, she says, that motivation comes from the story of her mother, a certified nursing assistant.
"She wasn't able to fully live out her dreams, so I want to help as many nurses as I can to realize their dreams, and particularly Black nurses," Rhodes said. "I have been that nurse that didn't have a voice. There are times when I have been overlooked. We play such a big role in nursing, but a lot of times you don't see the Black nurse represented."
Rhodes said she sees her efforts to support Black nurses as part of a broader effort to connect the rising generation of nurses with emerging opportunities. This could require a "paradigm shift" in the way the profession thinks about leadership opportunities, she said.
"How do we refocus nursing on where nurses are now?" she asked. "How do we connect with a generation of nurses who are different from before and help them move into leadership?"
The answers may not be easy, but Rhodes said that based on her coaching experience there is at least one factor every nurse can control: clearly communicating career goals.
"Communicate with your leaders that you want to learn more or move higher," she said. "Then move forward with all your might."