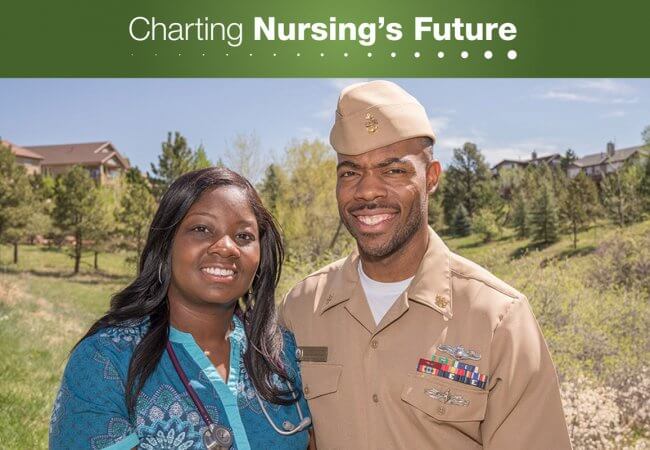 Multistate Licenses Help Military-Spouse and Other Nurses Begin Working Right Away
When Yumuriel Whitaker's husband was transferred to Georgia from the Florida naval base where he was stationed, Whitaker applied for a Georgia nursing license in order to work legally in the state. The process, she says, was "tedious, challenging, and confusing." She had to pay $60. Submit passport photos. Fill out paperwork. And wait.
Months passed. During that time, Whitaker was able to begin work at a hospital medical/surgical/telemetry unit, but because she did not yet have her Georgia nursing license, she was paid at the lower, graduate nurse rate of $16 an hour, rather than the RN rate of $23 an hour. As a result, she and her husband initially had trouble securing financing to buy a home.
"You feel kind of in limbo," she says. "Some people, unfortunately, get discouraged and decide it's easier not to work when they transition with their spouse."
Today such bureaucratic delays are less likely to happen thanks to an agreement early this year among a growing number of states—the enhanced Nurse Licensure Compact (eNLC). But Whitaker's experience is familiar to many nurses who are military spouses, as well as to other nurses who move frequently.
Licensed practical nurse (LPN) Jennifer Thompson hoped to begin working as soon as she and her solider husband arrived in California in 2016. She applied for a Golden State nursing license in early March, a full three months before the move, but she did not receive it until mid-October, nearly seven months after her initial application. By the time Thompson received her California license, she only had eight months left in the state. "It was a lot of frustration for just eight months' worth of work," she says.
The couple's next move—to Fort Bragg, North Carolina—was much easier. North Carolina is part of the eNLC, so Thompson, now an RN, was allowed to begin work immediately under the multistate license she obtained in 2012 while living in Texas. She currently works as a labor and delivery nurse at Cape Fear Valley Medical Center in Fayetteville.
Whitaker's faced uncertainty during her last move, which took her and her husband to Denver, Col. Looking for a job without a valid nursing license is a dicey proposition. Employers want nurses who can begin work right away. Fortunately for the residents of Colorado, Whitaker's state license came through by the time her new employer was ready to begin the onboarding process. Today, Whitaker is the clinical nurse coordinator of the Denver Metro Tuberculosis Clinic.
A Better Way
The next time Whitaker, Thompson and many other nurses move, things should be better. As of early 2018, Colorado, Georgia, Florida, and 26 other states are part of the eNLC, which allows nurses to acquire multistate licenses to practice in any member state without jumping through additional administrative hoops.
"My life would be a lot easier if I can immediately start working when we move," Whitaker says. "This is our life. We're going to move. It would be great to be able to move with my spouse, work, and give back to the community."