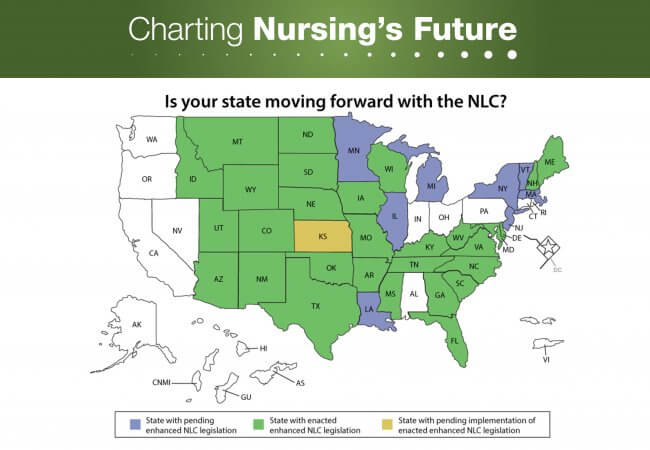 Many States, One License: The Enhanced Nurse Licensure Compact Is Now Live
As the 21st century has progressed, it's become increasingly apparent that allowing geographical boundaries to limit health care professionals' reach is not good for consumers or the people providing care. The average American now moves approximately 11 times in a lifetime; the days of settling and staying in one place are all but gone. Meanwhile, telehealth is growing, and is often used to deliver health care to people who live in remote and underserved places.
In 1999, Maryland became the first state to join the nation's original Nurse Licensure Compact. Before the compact was created, nurses had to obtain a separate license for every state where they practiced. This applied to nurses who moved from one state to another; nurses who lived near neighboring states and sought employment across the border; and even nurses who traveled to help during natural disasters in other states. Under the compact, nurses could obtain multistate licenses that allow them to practice physically, telephonically, or electronically in any of the member states without having to obtain a new license in each state. By 2015, 25 states were part of the compact.
Implementation of the enhanced Nurse Licensure Compact (eNLC) began on January 19, 2018. The eNLC introduced 11 uniform requirements for a multistate license to ensure that nurses from eNLC states have comparable qualifications.
Here are some facts about the eNLC:
29 states have already joined the compact: Arizona, Arkansas, Colorado, Delaware, Florida, Georgia, Idaho, Iowa, Kentucky, Maine, Maryland, Mississippi, Missouri, Montana, Nebraska, New Hampshire, New Mexico, North Carolina, North Dakota, Oklahoma, South Carolina, South Dakota, Tennessee, Texas, Utah, Virginia, West Virginia, Wisconsin, and Wyoming.
Other states are interested in joining: Massachusetts, Michigan, Vermont, Minnesota, Kansas, Illinois, Louisiana, New York, New Jersey, and Rhode Island have legislation pending.
State hospital associations and insurance companies support the eNLC. "We also see a lot of support from Mayo Clinic and bigger hospitals," says Rebecca Fotsch, associate director of legislative affairs for the National Council of State Boards of Nursing.
Most nurses think it's a great idea. 70 percent of nurses surveyed in 2014 supported their states' joining the compact.
Criminal background checks are required of all nurses applying for a multistate license.
Eligibility and licensure requirements are uniform. All nurses who apply for a multistate license must have graduated from an approved education program and have passed the NCLEX licensure exam.
The eNLC facilitates continuity of care. "Most people don't realize that if they go and get care in Massachusetts and then drive half an hour home to Rhode Island, their nurse in Massachusetts cannot legally call them and follow up on their care," Fotsch says, unless that nurse is also licensed in Rhode Island. Nurses with multistate licenses can provide care across state borders without jumping through additional licensure hoops.
The eNLC improves access to care by making it easier for nurses to start working. Obtaining a nursing license in a new state can be a time consuming—and expensive—process. Nurses in compact member states can begin providing patient care right away, rather than sitting on the sidelines for weeks, filing papers, and waiting for official approval. "This is all about reducing a regulatory burden and creating better access to care," Fotsch says.
Some nursing organizations and unions oppose the eNLC. In 2012, RoseAnn DeMoro, the recently retired executive director of National Nurses United, placed the NLC on a list of nursing concerns, arguing that the compact threatened to "lower standards for all RNs to lowest state requirements." Compact opponents in Washington, Minnesota, and other states agree. Members of the Massachusetts Nurses Association have also expressed concern that the eNLC would make it easier for hospitals to hire out-of-state nurses to replace union nurses during a strike. Proponents counter that since the original compact was enacted 19 years ago, no evidence has emerged to substantiate these fears.