"My Leadership Journey"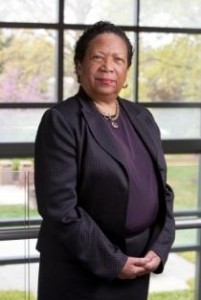 Linda Burnes Bolton, DrPH, RN, FAAN, the vice-chair of the IOM Committee on the Future of Nursing and vice president for nursing and chief nursing officer at Cedars-Sinai Medical Center in Los Angeles, shared her leadership journey at the Center to Champion Nursing in America's Leadership Meeting in Seattle on December 5. The following is an excerpt of her remarks, which also appeared in "Accelerate Your Career in Nursing: A Guide to Professional Advancement and Recognition" by Janice Phillips and Janet Boivin.
Leadership is not measured by the number of accolades, positions you hold, or amount of wealth you accumulate. You're on the path to being your best when you have reached a point on your leadership journey where you can be of assistance and influence a larger sphere of society.
I became a nurse because I wanted to care for others, and I wanted to reduce health disparities and inequities. But I learned early on that I needed to care and act. That's why I've sought out leadership positions in organizations that help to provide safe and equitable care and access for everyone. I've tried to change structures and policies to break down barriers and reduce disparities so that more people can lead healthier lives.
We all start as newly minted nurses, and we need to choose to become nurse leaders. With health transformation underway, there's never been a more important time to pursue nurse leadership, no matter whether you're embarking on your first job or are a seasoned executive.
Nurses bring the consumer's voice, and we're driven by a lifelong commitment to human caring, which should be the basis for all efforts to improve health care. Nurse leaders are willing to lead for the expressed purpose of creating a better place for everyone to live, work, and play.
Do a self-assessment to help you to become the best leader you can be.  Ask yourself:
What is your driving purpose?
What do you wish to accomplish?
What are you willing to do to accomplish your driving purpose?
What are you willing to give up so that your energy remains connected to your primary life's purpose?
What knowledge must you acquire?
Which leadership experiences should you pursue?
Who can assist you?
How do you create a purposeful network of individuals to work with?
Get feedback from your peers, colleagues, family, friends, supervisors, and mentors, and embark or accelerate your leadership journey.
Join a committee or working group with an organization you believe in. You'll be able to practice leading and receive feedback on your skills, as well as to prepare to lead in other situations. The organization can observe how you lead and interact with a diverse group of individuals. I served on several committees for the Robert Wood Johnson Foundation, for example, before the Foundation asked me to join its Board of Trustees in 2012.
I also developed my skill set by leading within professional nursing societies. Seek out progressive leadership positions with increasing responsibilities. Leading others in a volunteer role is an excellent strategy on the journey to become a master—be the member who would be president.
Expand your competencies. To be ready for board leadership, you'll need a broad knowledge base across health and nursing, and an exquisite ability to promote disruptive innovation. That means a commitment and a track record of having implemented a transformation within a facility, community, or organization that has led to improvement. You also need a history of progressive efforts to improve health and health care through multiple strategies.
Close any gaps and acquire skills and knowledge to give back. Find a mentor: executives will bounce ideas with you to make yourself more attractive.
Once you become an experienced volunteer leader, you'll be ready to become a societal leader and commit to leading on behalf of the public. Societal leaders create a shared dream that others will support. Leading in society requires knowledge about the policies and practices that are barriers to a healthy society and possessing the skills to work with diverse constituencies to remove those barriers.
Inform others once you feel ready to become a societal leader. Lead for the expressed purpose of helping to co-create a better place for everyone to live, work and play. Share your leadership knowledge and skills, coach and mentor others and model the commitment of being of use to the larger society. Create a virtual community of leaders from different occupations, genders, ethnicities, nationalities and perspectives so that you continue to learn and grow.
It's our duty—the essence of nursing—to provide human caring at the individual, population and societal levels. And it's nursing leadership at its very best.