What Am I Doing to Help Build a Healthier America?
In honor of National Public Health Week 2016, Breakthrough Leader in Nursing Jake Creviston, MN, RN, PMHNP, DNP, offers some reflections on the role of nurses in public health and how he is working to build a healthier America.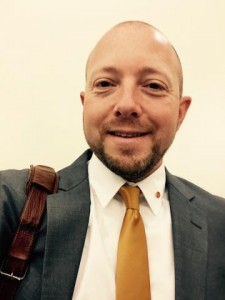 Nursing's leadership on boards is crucial to public health. Nursing leadership is associated with positive patient outcomes and satisfaction and I believe the totality of nursing's contributions to increased public health is still unrealized. Inspired by this notion and the vision of the Oregon Action Coalition's Leadership Workgroup, I'm working to prepare and place nurses on boards in the state of Oregon.
Last fall the Oregon Action Coalition received a Future of Nursing State Implementation Program grant to support our extensive plan to increase the amount of nurses serving on boards across the state. We intend to align with greater efforts wherever possible and several of our members, myself included, serve on the national Nurses on Boards Coalition committees. We are currently hiring an adept staff member to take direction and steer our ship.  We're promoting an interprofessional approach by exploring pre-existing board training programs we may use to prepare our nurse candidates. I have presented on board diversification and nurses on boards at numerous conferences and we have no plan to stop getting the word out. In keeping with the words of Dr. Susan Hassmiller, we understand that achieving our goal of propelling nurses from the "Bedside to the Boardroom" demands cultivating relationships with "strange bedfellows." We are therefore building vital relationships inside and outside of nursing to convince public health stakeholders of nursing's unique perspectives on and contributions to public health. Our aspirations are great but we are highly inspired.
The window of opportunity to instill nursing at every level of policy design and implementation is wide open. Novel health reforms such as the Patient Protection and Affordable Care Act strive to increase the health of the public but without full participation by nursing these efforts may be in vain and leave the public underserved and underrepresented. Oregon is at the forefront of driving health reform forward but in dire need of nursing voices at the table. The Oregon Action Coalition and I hope to do just that.