Get on Board: Leap Into Leadership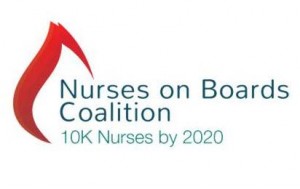 Boards are better when nurses weigh in; their perspectives and experiences add distinctive viewpoints that improve the decisions that are made to achieve the goals of improved health, and efficient and effective health care systems at the local, state, and national levels.
That's why the Future of Nursing: Campaign for Action encourages nurses to join the Leap Into Leadership initiative, February 29 to March 4, sponsored by the Nurses on Boards Coalition. Visit NursesonBoardsCoalition.org and click the "Be Counted" tab. The Nurses on Boards Coalition is spearheading the drive to get 10,000 nurses on boards across America by 2020. Getting a good count of how many nurses serve in leadership spots on the boards of community, health, and other organizations will provide a stronger foundation for growth and help create healthier communities.