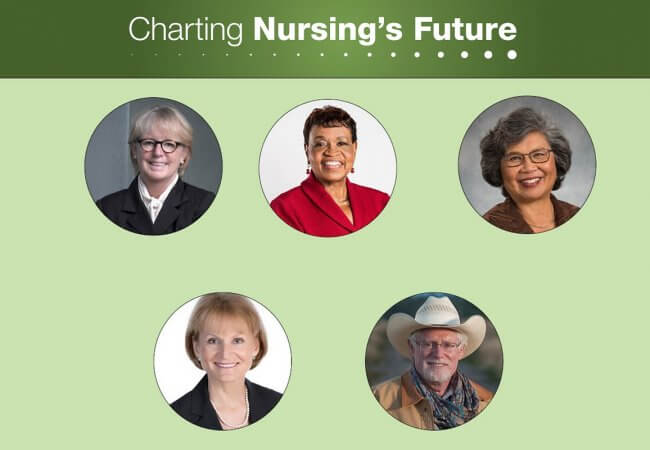 Five Nurse Leaders Share Policy Wishes for 2018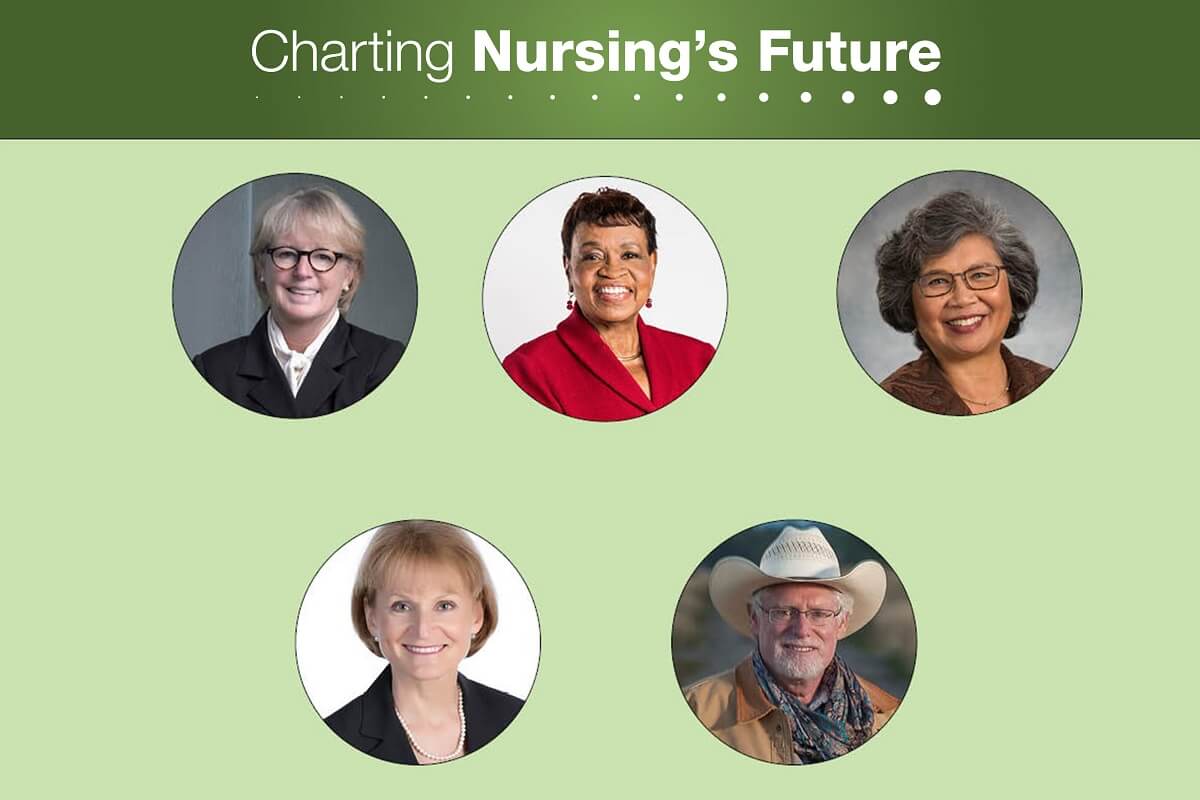 In late 2017, Charting Nursing's Future spoke to five nurse thought leaders about their priorities for policy change in 2018. Here are the items that topped their policy wish lists.
Sheila Burke, RN, MPA, FAAN, strategic advisor, Baker, Donelson, Bearman, Caldwell & Berkowitz
Reauthorize Title VIII of the Public Health Service Act.
Title VIII funds are appropriated annually to support nursing education, nurse faculty loans, and a variety of other workforce development programs. There is concern that if Congress does not reauthorize Title VIII, the Trump administration will not request funds for those activities. The administration has indicated that it is not interested in requesting funds for any program that hasn't been authorized by Congress, so Title VIII authorization is at the absolute top of my wish list. Congress could still provide money for nurse education programs, but it makes it more difficult if the administration fails to request funds for Title VIII.
Make health care coverage and services accessible to all.
Funding for the Children's Health Insurance Program (CHIP) is about to run out. CHIP provides coverage for millions of children who are not Medicaid eligible but whose families have quite low incomes. Then there's the broader question of continued support for the Affordable Care Act.
Subsidies for the purchase of coverage and cost-sharing subsidies for insurers are the subject of a great deal of debate in Congress. We are going into an election cycle where things will be hyperpolitical, and a number of folks have already indicated they will look to Medicare and Medicaid for additional spending cuts. So we've got a broad range of issues related to health care that will continue to receive a tremendous amount of attention. Nurses ought to feel it is part of their responsibility to be active in the electoral process, because policy decisions have enormous implications for the people we care for.
Catherine Alicia Georges, EdD, RN, FAAN, President-elect of AARP
Achieve full practice authority for APRNs in all our states.
More and more states are recognizing the value of authorizing advanced practice registered nurses (APRNs) to provide the full scope of services they are educated and certified to provide, but more than half of all states still have outdated practice barriers in place. There's no way we're going to get full practice authority in all the states unless we really push to build coalitions, as the Campaign is doing. We've got to constantly affirm who we are, what we're about, and keep getting this message loud and clear to people who have not been our partners in the past. Nurses need to get to the folks who have been the naysayers, and we need to make sure that we use the science and the data that we have to move our agenda forward.
Immerse nurses in state policy.
I would like to see nurses and nursing students really immersed in all the issues around policy development that affect their practice and patient care. I think we're operating in silos, and I want to see us do more with others so we can have collective impact in our states. I live in the Bronx, the borough that has the worst health indices in the entire state of New York, so I want to see nurses not just showing up, but taking the lead in community projects. I want to see nurses at the grassroots getting on boards, starting at the local level. I tell them, "Don't wait for people to nominate you. Go ahead and nominate yourselves. Be bold and audacious. Just step up to the plate."
Jennie Chin Hansen, RN, MS, FAAN, former CEO of American Geriatrics Society
Operationalize the CARE Act.
About half of the forty million Americans who care for a loved one are called upon to perform medical or nursing tasks in their homes. The Caregiver Advise, Record, Enable (CARE) Act supports these caregivers when their family members are hospitalized by involving them in discharge planning and preparing them to perform complex tasks such as caring for wounds or giving injections. The CARE Act has passed in 40 states and territories, but the infrastructure is not in place to fully realize its promise. Operationalizing the law will help people who leave the hospital have a safer path to recovery. Nurses will have a key role in this because they will be the point of contact for family members when this policy is implemented.
Stay focused on helping people achieve their best health.
Congress has tried to pass several bills that would put the health care coverage of millions of people at risk. We have to stay focused despite the possibility that across the country, some people could lose their insurance coverage.
How can we continue to enable better health when people may not have the same access to care? I hope that nurses will take a leadership role and find creative ways to help people realize their best health, even if there are policy changes that create instability. I use the Institute for Healthcare Improvement's Triple Aim—better health, better care, and lower cost—as an organizing framework. These principles are evergreen. Nurses can enhance local community supports and help people access resources and benefits that sometimes they don't take advantage of, such as supplemental food programs or community clinics. Nurses will have a vital role to play in safeguarding people's health even as the health care landscape changes in 2018.
Mary Wakefield, PhD, RN, FAAN, acting United States Deputy Secretary of Health and Human Services in the Obama administration
Bend the curve on health care costs.
Costs are stifling the ability of individuals and families to access care, and impacting state and federal governments' ability to support essential services. While there are many factors spurring growth in costs, supporting innovation in health care delivery is a key strategy for bending the cost curve. The Center for Medicare and Medicaid Innovation (CMMI) has been a vehicle for supporting innovation that enhances efficiency and quality in health care delivery, but the agency's direction going forward is in question right now. My hope is that CMMI continues its intense effort to support innovation that helps bend the cost curve while improving care quality. Much more needs to happen on this front.
Destigmatize opioid misuse and expand evidence-based treatment.
Every day, 91 Americans die from an opioid overdose, so there is an appetite on Capitol Hill for medication-assisted therapy for opioid addiction. We need to make sure that the focus is on expanding treatment because the population suffering from addiction far outstrips the current capacity to provide treatment. Broadening the pool of providers who can treat opioid addiction is critically important. We also need incentives for more clinics across the country to start doing this work, and health care providers need education to increase their confidence in engaging with the populations that are adversely impacted.
Strengthen the Affordable Care Act.
An estimated 17.8  million people have coverage now through the health insurance marketplaces or through the Medicaid expansion created by the Affordable Care Act. To see that coverage erode is highly problematic for those individuals and families that are directly impacted. Furthermore, removing the individual mandate will ultimately drive up the cost of insurance for everyone. Continued access to health insurance coverage also has an impact on the health care system itself. The most vulnerable components of the delivery system, such as small, rural hospitals, have fairly fragile financial bottom lines and depend heavily on people coming through the doors with insurance coverage.
Peter Buerhaus, PhD, RN, FAAN, director, Center for Interdisciplinary Health Workforce Studies at Montana State University College of Nursing
Teach nursing students to integrate quality improvement and eliminate waste.
Nursing schools should implement this policy for two reasons: to improve care and to better prepare nurses for the workplace. Adopting this change would help ensure that when students prepare care plans, they include ideas on how the quality of care provided to their patients could be improved and how waste in the care delivery process could be eliminated. This should start very early in the student's clinical experience. Resources developed through the Quality and Safety Education for Nurses initiative support this effort. Nurses need to be active contributors to improving quality and reducing waste in the system. Doing so adds value to health care delivery and should be rewarded by employers.
Change the way "incident to" billing is coded.
Under certain circumstances, the Centers for Medicare and Medicaid Services (CMS) rules allow physicians to use their provider numbers to bill for services that were provided by a nurse practitioner (NP) "incident to" the physician's diagnosis. Because physicians are reimbursed at a higher rate than NPs, there is an incentive to bill "incident to."
The frequency of "incident to" billing is unknown because CMS does not require that it be identified as such in its claims data. This makes it difficult for researchers, policymakers, and government entities to understand the contributions of NPs providing both primary and specialty care. If we can't figure out who actually provided which service, then the goals of MACRA [the Medicare Access and CHIP Reauthorization Act of 2015]—to reward clinicians for value-based care—are undermined.