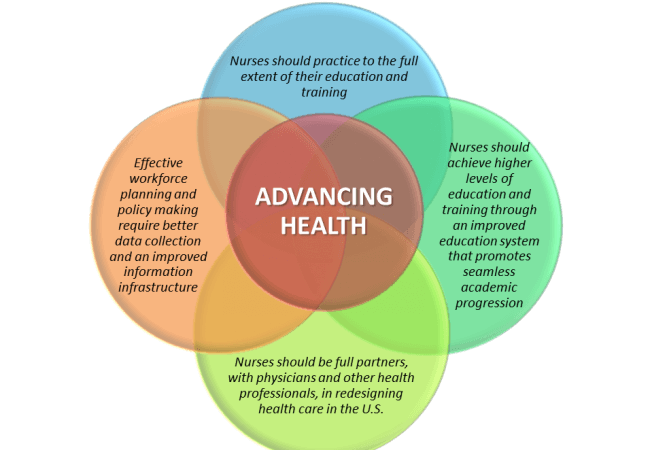 The Evidence Is In, and Posted: Experts' Webinars Now Online
What has changed, exactly, in the wake of the 2010 report on the future of nursing? That's what the Robert Wood Johnson Foundation asked a number of research experts. Their responses, culled from their thorough examinations of studies conducted since the report was released, are now posted as four one-hour webinars on the Campaign website.
The idea was to have a clear understanding of shifts in health, health care, and nursing since the release by the Institute of Medicine of The Future of Nursing: Leading Change, Advancing Health. The experts each reviewed published reports of major findings, grouped into the four themes that together advance health through nursing:
Scope of practice. Lead researcher: Joanne Spetz, PhD, FAAN
Quick take—Multiple studies show that broader scope of practice laws are related to improved quality of care, access to care, and cost of care, but strong efforts are needed to change customs and practices as well as regulations.
Nursing education. Lead researcher: Linda Aiken, PhD, FAAN, RN
Quick take—It's a first: the number of BSN graduates exceeds those entering the workforce without a BSN. But only 6 percent of hospitals have an 80 percent or greater BSN-prepared workforce delivering direct care to patients. The value of BSN-prepared nurses has increased, but hiring practices lag.
Nurses as partners in redesigning health care. Lead researcher: Olga Yakusheva, PhD
Quick take—More than ever, nurses are being trained how to lead in interprofessional settings; furthermore, three emerging models of care are centered on nurses as leaders. Still, only 5 percent of hospitals boards are nurses. Nurses can further a much-needed cultural change by reaching across various disciplines.
Workforce planning. Lead researcher: Erin Fraher, PhD, MPP
Quick take—HRSA has offered new sources of information since its last sample survey, in 2008; some federal-state partnerships have sprung up; and the kinds of nursing data collected have expanded. Still, a national census of nurses is needed to provide a framework for more workforce research.
Each webinar included multiple speakers with different perspectives on the issue. The webinar on scope of practice, for example, included the observations of an executive from an association of retail clinics; the review of education included speakers from hospitals and universities. The presentations rested on the researchers' findings that show progress (and lack of same) in the recommendations in each area.
Each presentation posted online includes an audio recording of the webinar, the slides shown, and a written summary.
The review of evidence was presented originally as a written report for the IOM committee evaluating the impact of the future of nursing report.