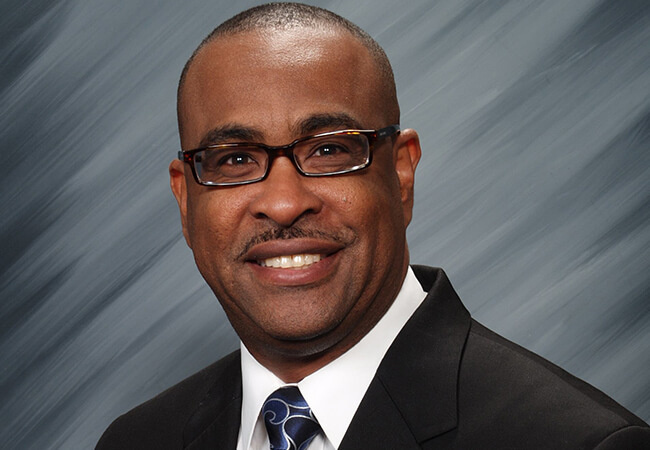 Eric J. Williams to Co-Chair Campaign Committee
The Campaign for Action is honored to announce that Eric J. Williams, DNP, RN, CNE, FAAN, is stepping up to be co-chair of its Equity, Diversity, and Inclusion Steering Committee, as of August 1. Williams has just completed two back-to-back terms as the first male president of the National Black Nurses Association.  On his appointment as co-chair, Williams writes:
"I am elated to serve as co-lead of the Future of Nursing: Campaign for Action's Equity, Diversity and Inclusion Steering Committee. I believe that equity, diversity, and inclusion in nursing are essential core values to nursing's future and what's needed to build a healthy United States of America."
Williams, assistant director and faculty chair and professor of nursing at Santa Monica College in California, has broken ground elsewhere: He was the first African American male faculty member when he began his appointment at Santa Monica in 2001, and the first male to be hired as a nursing faculty member at Dillard University in New Orleans, where he was assistant professor.
As NBNA president, Williams created a number of programs including initiatives devoted to violence reduction; mentorship; substance misuse; and global health.
Williams earned a bachelor's degree in nursing from William Carey University, in Hattiesburg, Miss.; a master's with a focus on adult health and illness from the University of South Alabama, in Mobile; and a Doctor of Nursing Practice degree from the Frances Payne Bolton School of Nursing at Case Western Reserve University, in Cleveland.
Williams has served on the Campaign's Equity, Diversity, and Inclusion Steering Committee for a number of years, leading a Campaign webinar in 2017 on the power of mentoring.
Williams joins co-chair Carmen Alvarez, PhD, CRNP, CNM, assistant professor in the department of community-public health, Johns Hopkins University. The committee has had the good fortune to have wise guidance from Deborah Washington, PhD, RN, MS, director of diversity for nursing and patient care services at Massachusetts General Hospital, who after seven years as committee co-chair is stepping down.
The Equity, Diversity, and Inclusion Steering Committee works to ensure that all people, regardless of race, religion, creed, ethnicity, age, gender, sexual orientation, or any aspect of their identity, will experience equity in well-being, health, and health care through a more diverse nursing workforce.