Colorado Makes the Connection for Nurse Leadership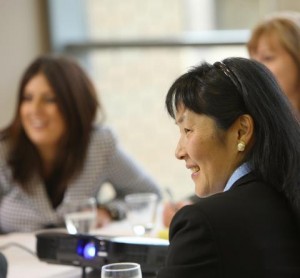 It's a weeknight in a local Denver eatery, with the usual sounds of muted conversations, clinking glasses, and a faint hint of Muzak from the other room. In one part of the restaurant, though, it's quiet. A small crowd listens with great interest to a speaker addressing why nurses make great leaders.
Colorado's Action Coalition, headed by Karren Kowalski, PhD, chief executive officer of the Colorado Center for Nursing Excellence, has organized these monthly "salons." The goal is to place as many nurses as possible on statewide health and hospital boards. Kowalski said, "We've worked hard on getting young nurses to the salons, and we've worked on training and education. We've asked nursing managers to think of where they can be more visible."
The speakers cover a wide range of topics in nurse leadership. Dori Beister, PhD, told her listeners about her journey at Children's Hospital Colorado from senior vice president for nursing to chief executive officer, and about the day-to-day workings of a hospital board. Senator Jeanne Nicholson, MSN, the first nurse to be elected to the state senate, talked about what serving as an elected official has meant for her and for health care policy in Colorado. Marilyn Bouldin, MSN, a public health nurse from rural Salida, talked about serving on the board of Heart of the Rockies Regional Medical Center.
This series of talks is just one approach the Colorado Action Coalition has taken to address the recommendation of the Institute of Medicine to "expand opportunities for nurses to lead and diffuse collaborative improvement efforts throughout the health care system." The Action Coalition has also worked with Susan E. Birch, MBA, BSN, who heads the Colorado Department of Health Care Policy and Financing, and with Romaine Pacheco, who coordinates the governor's appointments to statewide boards.
Each nurse who attends a salon fills out a form listing his or her qualifications. When the Action Coalition learns of an opening on a state, regional, or local board, the forms provide one of many connection points in the search for a nurse who might fit the needs of that specialty. These methods are effective. A full 15 nurses have been appointed to boards since June of 2012.
Kowalski says, "Nurses have everyday working knowledge of how to manage health care and get people to work together. Think of the nursing process. You must evaluate a situation, make a plan, implement the plan, and then evaluate the plan. These skills apply to other areas. It's something every manager must do as well."
And why is it important for nurses to have visibility and influence on hospital and other boards? Scope of practice issues are one example. Colorado has some of the more progressive legislation allowing advanced-practice nurses to practice independently to the full extent of their training, but hospital privileges are determined by those who sit on hospital boards. A nurse on the board increases the likelihood advanced-practice nurses will receive those privileges.
At a time when the health care system is rapidly changing, and when strong nurse leadership is central to the changes, the Colorado Action Coalition is using innovative techniques to move the process forward. Kowalski says, "We have to work with folks who aren't nurses. Before now, we've talked about change, but we've talked among ourselves. We have to have different strategies this time."
This story appeared in the November 2013 issue of Advancing Health: News from the Campaign for Action.