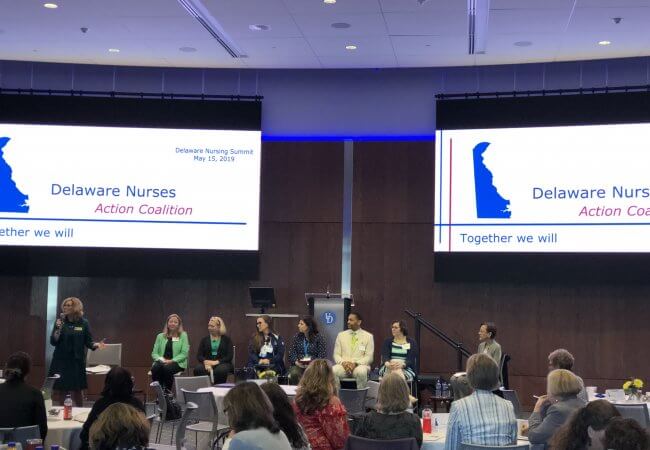 Collective Impact in Sussex County, Delaware
Collective Impact is working in Sussex County, Delaware according to Megan Williams, DNP, APRN, FAANP, Board President, Sussex County Health Coalition and Vice President of the Delaware Healthcare Association and Peg Geisler, Executive Director,  Sussex County Health Coalition and Owner of PMG Consulting LLC.  At the Delaware Nursing Summit 2019, these dynamic leaders described how a community works together to create meaningful change in the lives of individuals living in Sussex County.
In 2011, a collaborative effort of community members, community resources and area hospitals came together to form the group Healthier Sussex County.  Its mission was to make Sussex County one of the healthiest counties in the nation.  Beebe Healthcare, Bayhealth, and Nanticoke Health Services as well as several other health and community organizations worked to support all Sussex County residents in its quest to achieve better health.  Today, they continue to work towards meeting their objectives:
To identify and address health disparities
To identify and address health education needs
To positively impact health behavior and outcomes
County Health Rankings  were examined as Healthier Sussex County researched what was needed to improve health outcomes in Sussex County.  The Rankings were based on a model of population health that emphasizes the many factors that if improved help make communities healthier places to live, learn, work and play.
The Rankings use a model that attributes health outcomes to a variety of factors. The physical environment where one lives affects health outcomes by 10%.  This includes the built environment- whether there are open walkable spaces, playgrounds, and safe housing. It also includes the quality of this environment.  Health behaviors such as tobacco use, diet, exercise, and alcohol use contribute 30% towards one's health outcome.   Surprisingly, clinical health care such as access to care and the quality of health care contribute just 20% towards a healthy outcome for populations.  The largest impact on one's overall health and well-being are the social and economic factors in one's life.  These factors contribute 40% towards one's overall health and well-being, including education, employment, income, community safety, and family and social support.
Understanding the powerful effect these factors have on an individual's health, Healthier Sussex County recognized the need to reach beyond the health organizations and engage more members of the community. In 2006, the Sussex County Health Coalition (SCHC) was established  to involve the entire Sussex County community in a collaborative, family-focused effort to improve the health of children, youth and families in Sussex County Delaware.  Linking Healthier Sussex County with SCHC was a natural fit.
SCHC currently engages with over 200 agencies and organizations. They all have a common agenda which is to improve health outcomes in Sussex County Delaware. SCHC serves as the backbone agency in this Collective Impact Model.   Collective Impact is the term used to describe groups who work together to make systemic change in communities on a large scale.  The groups share a common goal and are supported by a "backbone agency" that has the ability to coordinate all participating organizations.  SCHC coordinates and communicates the efforts and actions for the initiatives and is the backbone agency in Sussex County.
The SCHC has five committees who meet separately and as a whole they identify community needs and concerns.  These five committees include the:
These committees work to align within targeted areas of need using local data and stakeholder feedback to verify the need.  Committees plan how to address these needs using promising practices found either locally or nationally. They then seek support from strategic partners in the community. The SCHC assists the committees in implementing strategies, programs and/or collaborations.
Nurses are leaders and members of the SCHC.  Over 100 nurses from diverse backgrounds participate in the community-based committees as well as community interfacing initiatives.  This community-based collaboration is an arena where nurses bring their unique voice to create change as part of a larger body of stakeholders.
The Healthier Sussex County Task Force and SCHC have worked together to develop a Community Health Needs Assessment shared process with the three major health organizations of Nanticoke, Beebe and Bayhealth.  The Community Health Needs Assessment is required to be developed every three years as a component of the Affordable Care Act.  This formal, structured review process helps health care professionals and leaders to better understand the unmet needs of a population.  Once this information is collected, hospitals must adopt and implement a strategic plan to address unmet community health needs as well as make these plans known to the public.  In addition, Healthier Sussex County Task Force and SCHC  collaborate to address unmet mental health needs and known disparities in breast and lung cancer screenings.
In 2018, Sussex County Delaware was ranked the healthiest county in Delaware!  Recognizing such success, Peg Geisler noted that "this 2018 ranking could potentially be contributed to better inter-organizational communication, structured collaboration and increased alignment of work to improve the health and wellness of our citizens."
If you would like more information or would like to be involved, visit the website:  https://www.sussexcoalition.org/schc/getting-involved/