You Can't Improve Safety and Quality Without Nurses
The Future of Nursing: Campaign for Action is proud to celebrate National Nurses Week, May 6–12, 2014. In honor of this year's theme, "Nurses Leading the Way," the Campaign is publishing two articles on the importance of nurse leadership. This is the second article in that series.
I spend a good deal of my time in meetings about quality and safety in hospitals, and for all the debates and discussion, there's almost always a critical missing voice: nursing. The nursing community may be represented by one token nurse, as if one person can express the perspective of the profession patients rely on every minute of the day in virtually every setting of the delivery system. That's more than a slight or an omission; that's one of the most significant reasons our country has failed to make the improvements in patient quality and safety that should have happened long ago.
Nursing is the essence of every hospital; indeed, most of what hospitals do is deliver nursing care. Nursing expertise focuses on the day-to-day emotional and clinical support for patients, and that expertise can often mean life or death for any patient. Where there's great respect for nursing and nursing leadership, you have a great hospital. Where nurses and their concerns are overlooked and exert minimal influence in hospital policies and leadership, you have an unsafe hospital.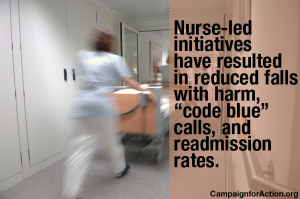 The voice and vision of nursing has not been front and center in health policy or within the boardrooms of too many hospitals. As a result, the record of safety in hospitals is abysmal. One in four Medicare beneficiaries admitted to a hospital is harmed during the stay, according to a 2010 report from the Office of the Inspector General. And that's just one of the many dismaying statistics about hospital safety. Those statistics will only improve when nurses have leadership positions—because they know what needs to be done to improve safety and quality.
First, nurses bring a patient-centered view to institutional priorities. Oftentimes, boards get caught up in talking about the latest policies on reimbursement for Medicare or Medicaid or they get excited about a new technology or a new wing being built. These are all important things to consider, but what hospitals and health system boards truly need is the voice of nurses saying that the rates of falls for patients have doubled, or there have been several "never" events—events that should never happen, like leaving an object in after surgery. Nurses are going to flag more of the so-called mundane aspects of the day-to-day operations of hospitals, like universal hand-hygiene, that may be harming or killing patients.
Second, nurses bring a focus to the holistic needs of patients. That is, nurses understand that patients are much more than a bundle of symptoms needing a specific treatment. Patients have families, friends, sources of strength, struggles, and entire lives outside of their particular disease or condition. Seeing patients holistically is a fundamental philosophy of nursing, and bringing that perspective to a board is crucial, because the best hospital will respect the complete needs of patients. This has become increasingly apparent to hospitals as the Affordable Care Act introduces penalties for excessive readmissions and encourages formation of Accountable Care Organizations and other payment strategies that reward patient outcomes.
Boards must make many decisions about resources and budgets, and many of those benefit from a nursing perspective. For instance, a board might be deciding how many windows to have in a new room where patients will undergo chemotherapy. Nurses would say to have as many windows as possible, because it brightens the room and the natural sunlight is beneficial for patients and staff.
While it sounds like a small thing, it could be worth millions of dollars to a hospital to make that investment—but nurses know that for the patient it can be priceless. Patients will do better in such a setting, and they will tell others about how they felt about being there during a difficult period in their lives. Nurses intuitively understand that something as simple sounding as deciding the number of windows to install is an extremely important investment with substantial returns.
Finally, nurses provide insight into the entire care delivery process. This front line perspective can have a critical impact on the quality and safety of the care that is provided. For example, nurse-led initiatives have resulted in reduced falls with harm, "code blue" calls, and readmission rates —which all have a direct impact on a hospital's bottom line.
For these reasons and more, we need to have more nurses on hospital and health system boards. That's why I am proud to support the Future of Nursing: Campaign for Action and its efforts to ensure that more nurses have a leadership voice in health-care decision making. I have made a personal commitment to ensure that the perspective of nursing is represented on The Leapfrog Group's board, and I encourage other business and health care leaders to do the same.
This Nurses Week, let's remember that the absence of nurse leadership in hospital and health system board rooms is the reason we haven't made the progress we need in quality and safety. We cannot make that progress if we continue to have a missing voice in our hospitals and health systems, and the rooms where policy decisions are made.
About the author: Leah Binder, president and CEO of The Leapfrog Group, a Champion Nursing Coalition member, and Campaign for Action supporter, is a health care leader on a mission—to make America's hospitals safe.