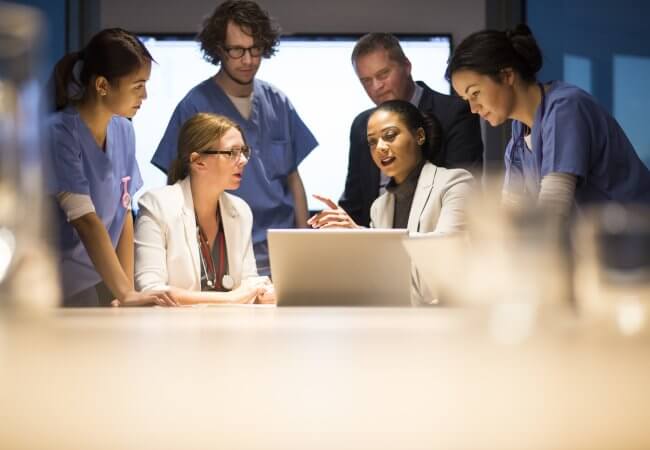 Campaign health equity toolkit to help in North Carolina
A nursing school and health care system have teamed up to put a health equity toolkit to good use, reports Triad Business Journal.
North Carolina Agricultural and Technical State University and Cone Health are partnering to use the Future of Nursing: Campaign for Action health equity toolkit, released last fall, in an initiative that brings together public health and community health nurses, nursing faculty and nursing students, and community leaders.
The Campaign produced "Building Coalitions to Promote Health Equity: A Toolkit for Action" to provide health professionals a step-by-step way to support communities and people in addressing factors often considered outside their purview—where patients live, their economic situation, how easily they can drive to where they need or get healthful food on a regular basis. The Campaign is an initiative of AARP Foundation, AARP, and the Robert Wood Johnson Foundation.
One of the nurse experts who created the health equity toolkit welcomes the North Carolina project.
Adriana Perez, PhD, CRNP, ANP-BC, FAAN, FGSA, assistant professor of nursing at the University of Pennsylvania School of Nursing, says that it typically it takes many years for research to be applied in real life. This rapid use of an evidence-based toolkit is a welcome exception.
"It took us some time, our team worked really hard on the health equity toolkit to make sure that it reflects the best evidence and also that it would be useful and helpful to nurses and anyone who want to address the social determinants of health and health equity. On average it takes 17 years to apply evidence to practice, so to see that it will be used after three to four months after posting on the Campaign website is amazing!"
Lenora R. Campbell, PhD, dean of North Carolina A&T's College of Health and Human Sciences, told the Business Journal, "We are especially pleased to have our students engaged in this initiative and have an opportunity to develop leadership and coalition-building skills to create partnerships and build community to promote population health."
The Campaign explained when it was first posted that the toolkit is based on the nursing process—the five steps known as ADPIE: assessment; diagnosis; planning; implementation; evaluation. This ADPIE framework lets health professionals assess how ready they are to take action to improve health equity locally, as well as measure their community's needs.
Download the toolkit here.