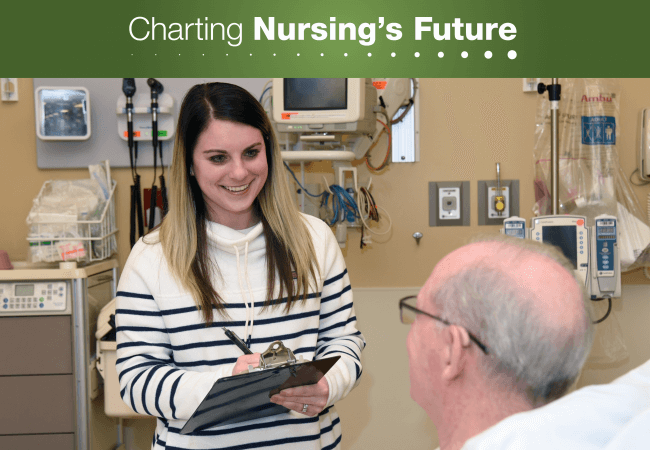 By Asking Questions, Nurses See Beyond Emergencies
Two emergency department nurses who followed their intuition and observations were well ahead of the curve when they started a program that screens for food insecurity and other social needs.
In 2016, Darris Bohman, BSN, RN, CEN, and Jennifer Williams, BSN, RN, CEN, began asking questions. By January 2018 they had spearheaded the Community Connection Center, an effort to address the ongoing needs of patients seeking emergency department (ED) care at TriHealth Bethesda Butler Hospital, near Cincinnati, Ohio.
The two nurses sensed that their patient population had a high level of unmet social needs because of the large number of repeat patients in the ED, the high percentage of Medicaid patients the hospital serves, and a known lack of primary care—one avenue through which patients might otherwise connect with needed social services.
The Community Connection Center is a tangible response to a question raised by U.S. Secretary of Health and Human Services Alex Azar last fall. Azar suggested that the Centers for Medicare and Medicaid Services (CMS) consider paying for health-related social services, asking in a November speech, "What if we provided solutions for the whole person, including addressing housing, nutrition, and other social needs?"
CMS is trying to quantify the health benefits and financial impact of addressing social determinants of health through its ongoing Accountable Health Communities Model initiative. Bohman and Williams did not wait for the results of those studies. "We saw the writing on the wall," said Bohman. "We figured we could do this now and be ahead of the curve, or we could wait until it was mandated."
To learn more about the large number of repeat patients, the pair at first added three questions about food insecurity to the ED triage process. Initially, just 5 percent of the population reported a problem, but Bohman and Williams felt there was more to the story. They used the final months of a locally funded grant to set up the Community Connection Center, a pilot project where volunteer nursing and other students from Miami University of Ohio screened ED patients using CMS' Accountable Health Communities Health-Related Social Needs Screening Tool, a more in-depth set of questions than those initially added to the ED triage process.
From January to May of 2018, the volunteers screened more than 1,600 patients in the privacy of the treatment room. Under the new screening protocol, the number of patients reporting food insecurity jumped to nearly 30 percent—a number in line with nationwide data—and those reporting at least one unmet social need rose as high as 43 percent. "We expected to discover a problem," said Bohman, "but we were still surprised by the numbers." The jump in affirmative responses also provided an important insight: Patients were much more likely to engage with students wearing street clothes than they were with clinical personnel wearing uniforms.
As part of the pilot, Bohman and Williams also reached out to the local SNAP (Supplemental Nutrition Assistance Program) office, the Butler County Homeless Coalition, and others to share information, develop relationships, and help the community acclimate to the idea that the ED could serve as an entry point for social services. Patients who reported an unmet need during screening received a list of local organizations that included hours of operation, contact information, services provided, and documents required to qualify.
Some ED staff were initially uncertain about screening for social determinants of health because they felt as if they had little to offer in this area.
"Now that we know how to help," said Bohman, "staff are excited about showing more empathy to patients. We've developed trusting relationships. Our patients see that we do care if they're hungry. We do care if they need help."
When asked about potential changes to CMS rules that might bring federal dollars into the picture, Bohman said, "A lack of resources can be a challenge, so funding would be a huge win—especially if it allowed for better case management."
The Community Connection Center will now run under a federal grant awarded to the greater Cincinnati community as part of CMS' Accountable Health Communities Model program. Bohman expects outcomes measured through the grant will further validate their work, but even without those numbers, she sees the program as a success.
"It was a victory all around," she said. "We have better interactions with the population we serve, so patient and provider satisfaction are both up. The students have a great experience, too. We're educating the next generation of health care providers about the importance of social determinants of health. That's a huge victory in and of itself."
For further information on improving health outcomes by addressing their social determinants: