Burnes Bolton Among Five Honored As 2016 Living Legends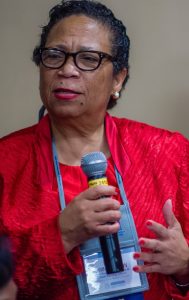 The American Academy of Nursing has awarded its highest honor to five nurse leaders this year, among them Linda Burnes Bolton, DrPH, RN, FAAN, vice president for nursing and chief nursing officer at Cedars-Sinai in Los Angeles. Burnes Bolton was the vice chair of the committee that developed the Institute of Medicine's Future of Nursing: Leading Change, Advancing Health report in 2010, which gave rise to the Future for Nursing: Campaign for Action. She has served on the board of the Robert Wood Johnson Foundation since 2012.
Those named as Living Legends by the Academy board must have been fellows on the Academy for at least 15 years, and made significant contributions to nursing and health care. Indeed, Burnes Bolton has earned multiple honors during a distinguished career, including the Lifetime Achievement Award from the American Organization of Nurse Executives. Her many honors, awards, and appointments reflect a life-long commitment to nurses and nursing.
Also named 2016 Living Legends are  Ann Wolbert Burgess, DNSc, APRN, BC, RN, FAAN; Colleen Conway-Welch, PhD, CNM, RN, FAAN, FACNM; Joyce J. Fitzpatrick, PhD, MBA, RN, FAAN; and Martha N. Hill, PhD, RN, FAAN. They will be honored at the Academy's annual conference in October.