Building Momentum Nationwide To Get Nurses on Boards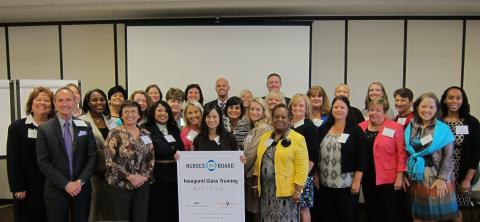 At more than 3 million strong, nurses make up the largest segment of the U.S. health care workforce, but relatively few nurses serve on hospital and health system governing boards of directors. A 2011 American Hospital Association survey of U.S. hospitals found that nurses accounted for only 6 percent of hospital board members, and anecdotal evidence suggests that nurses are underrepresented on the boards of other health-related organizations as well.
At a time of rapid change in health care delivery, consumers and providers would benefit from having nurses' frontline perspective present in the boardrooms where health care policy decisions are made.
"It should be the norm—not the exception—that people in the business of health care want to recruit nurses to join their boards," says Patricia Polansky, RN, MS, director of program development and implementation at AARP's Center to Champion Nursing in America (CCNA), an initiative of AARP, AARP Foundation, and the Robert Wood Johnson Foundation.
To bring about that shift in attitude, the Future of Nursing: Campaign for Action, which is coordinated by CCNA, set an aggressive goal of placing 10,000 nurses on hospital and health system boards by 2020. Polansky acknowledges that reaching this goal is ambitious, but says that leaders of the Campaign's volunteer Action Coalitions in all 50 states and the District of Columbia have already been hard at work to achieve it.
At the national level, the Campaign recently brought together nearly 20 major nursing organizations to develop a shared strategy and infrastructure to place nurse leaders on boards and commissions. Many nursing organizations and associations already have successful leadership and board training programs in place, but all agree that working collaboratively will enable all players to leverage each other's efforts and better position nurses to attain leadership positions.
"It's truly historic to have so many major nursing organizations working together to meet this aggressive goal of getting 10,000 nurses on boards," said Polansky, who has been a nurse for more than 40 years. "To my knowledge, this collaboration among nursing organizations working together toward this impactful number is a first."
Currently, 45 Action Coalitions are engaged in fostering nurse leaders, and to date report a combined 268 nurses serving on boards of directors. In addition, 20 Action Coalitions are tracking the numbers of nurse board members. This data will provide crucial information to help the Campaign monitor progress towards the 10,000 goal.
Progress is already being made. The Texas Team Action Coalition, working in collaboration with the Texas Healthcare Trustees, launched phase 1 of an effort in July to equip 26 nurses with the governance skills needed to succeed in board positions. The coalition plans to offer the yearlong program in each of eight Texas regions with the hope of preparing 400 nurses statewide for board service.
"Two days after our initial training and workshop, one of our participants was appointed to her first board position, so we believe that we will be able to achieve 100 percent of the inaugural cohort being placed in a board appointment by January 1, 2015," said Cole Edmonson, DNP, RN, NEA-BC, chief nursing officer at Texas Health Presbyterian Hospital Dallas and Texas Team co-lead.
In September, the Virginia Action Coalition hosted a professional development symposium focused on board leadership in conjunction with the annual meeting of the Virginia Nurses Association. The group already has accomplishments to celebrate. One member recently received a gubernatorial appointment to a seat on the Virginia State Board of Health, and another was selected to take part in the Robert Wood Johnson Foundation's Boundary-Spanning Leadership program.
"It's exciting to see so many groups working together to position nurses to guide health system change," said Polansky.
This story appeared in the October 2014 issue of Advancing Health: News from the Campaign for Action.