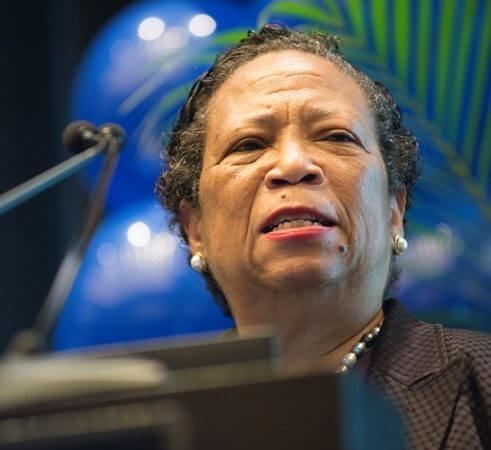 "Be Bold," and Other Notable Quotes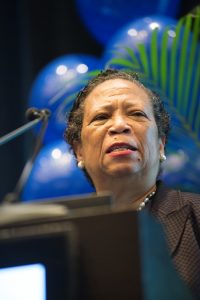 Two weeks ago, the American Academy of Nursing hosted its 2016 policy conference, "Transforming Health, Driving Policy." Those of us who attended were fortunate to hear the views of Campaign leaders and others reflecting on nursing's role in building a healthier future. For those of you not able to attend, here's a taste of what you would have heard:
"For so long, our profession has been silent on the contributions that we make to society. We are the unsung heroes, and over time, we have begun to understand how powerful our voice can be when it's heard. We just need to figure out how best to be heard. …In the policy realm, nurses have often shied away from the dynamics of making tough decisions, but we have to take that on as our new mantra."
Rear Admiral Sylvia Trent-Adams, PhD, RN, FAAN, deputy surgeon general, U.S. Public Health Service
"Which of all the clinical professions excels at patient advocacy? To me the unambiguous answer is nursing."
 Jeffrey C. Bauer, PhD, health futurist and medical economist
"What's the business case here? RNs are no longer to be thought of as a cost center. In the care of the community, they are valued creators—revenue centers through appropriate and legitimate billing—which some practices have been slow to realize."
Margaret Flinter, PhD, APRN, FAAN, senior VP and clinical director, Community Health Center, Inc.
"Payment is the overt recognition by society of our authority to practice…and now our value as well."
Eileen Sullivan-Marx, PhD, RN, FAAN, dean of the New York University College of Nursing
"I'm heartened by what I see in the judiciary and the state legislatures—the increasing recognition that before government restricts APRNS, RNs or anything, they should identify a need for that restriction."
Barbara Safriet, JD LLM, FAAN, visiting professor of health law at Lewis & Clark Law School
"Where do you need to place yourself to be a leader in health care? Be bold and audacious."
Catherine Alicia Georges, EdD, RN, FAAN, AARP president-elect and professor and chair of the Department of Nursing at Lehman College and the Graduate Center of the City University of New York
"I would argue that any organization that's involved in the delivery of health care, the payment of health care, the regulation of health care, the measurement of health care, that does not include the expertise of nurses, is simply incompetent to do its job."
Jack Needleman, PhD, FAAN, professor and chair of the department of health policy, UCLA Fielding School of Public Health
"Nurses are trilingual—we can speak to other health professionals, to our patients, and to those in power. Nurses can advocate to build the bridges we need to help those in poverty."
Sandee McClowry, PhD, RN, FAAN, professor at NYU and developer of INSIGHTS into Children's Temperament
"Is the Robert Wood Johnson Foundation going to continue with the Culture of Health? The answer is, yes. We are changing leaders; we're not changing our direction. Going back to Florence Nightingale, it was never about the culture of hospitals or the culture of agencies. It was about a culture of health, and who better to lead that than nurses."
Linda Burnes Bolton, DrPH, RN, FAAN, vice president, nursing, and chief nursing officer, Cedars-Sinai Medical Center. Burnes Bolton is an RWJF trustee was recognized as an AAN 2016 Living Legend.
"Florence Nightingale taught that the work we are speaking of had nothing to do with nursing disease but with maintaining health by removing the things that disturbed it: dirt, drink, diet, damp, drought, drafts, and drains."
Charles Homer, MD, MPH, deputy assistant secretary for human services policy, Office of the Assistant Secretary for Planning and Evaluation, Department of Health and Human Services
Photo of Linda Burnes Bolton by Carolina Kroon/©AARP