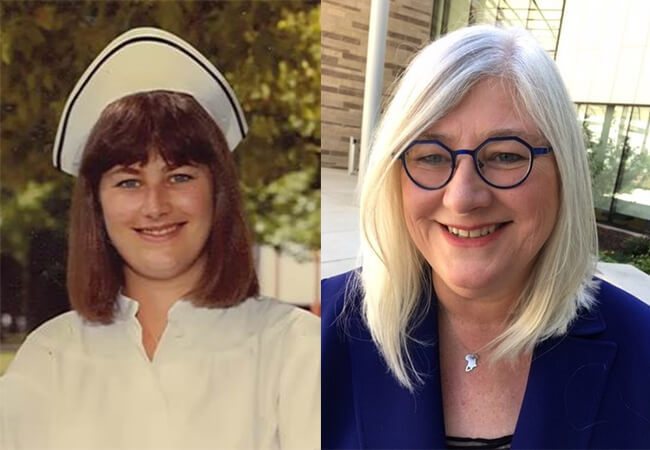 "Be Bold With Our Ideas": Go for System Change
Heather M. Young, PhD, RN, FAAN, is professor and founding dean emerita of the Betty Irene Moore School of Nursing at UC Davis. Her research and clinical interest is the promotion of healthy aging with a particular focus on the interface between family and formal health-care systems. She serves as co-director of the UC Davis Family Caregiving Institute.
Young holds a bachelor's in dietetics from UC Davis, an associate degree in nursing from Sacramento City College, a Bachelor of Science in Nursing from Southern Oregon State College, and a Master of Science in Nursing with a specialty in gerontology, and a doctorate in nursing science from University of Washington.
Why did you decide to become involved in the health field, and with the nursing profession?
My mom was a nurse and I was inspired by her and the beautiful cape she wore! My grandfather was the founder of a nonprofit that developed retirement housing in South Africa, and as a young girl I sometimes went to work with him, attending board meetings and being there as they prepared to open retirement homes. The director of nursing—there, it was called the matron—of this organization was a force and I admired her beyond words. I learned then I was drawn to working with older people and saw the potential of nursing to make a difference in so many aspects of their lives.
Describe the journey you took to get from that decision to where you are today.
I didn't go directly into nursing—I knew I wanted to be in health care and I was also drawn to science and the humanities. In college I explored a number of majors, from mathematics to philosophy to human development, before I settled on nutrition/dietetics.
When it was time to sign up for a dietetic internship, I realized I wanted to be a nurse because I wanted a profession that was more holistic, not focused on one aspect of health, a profession that could include all my diverse interests and my love of so many perspectives on health and being human. As I progressed in my nursing practice, education, and research, I focused more and more on older adults and on care in the community. In many ways I came full circle and found that all the lessons along the way prepared me to contribute to the complexity of issues around an aging population.
What impact did the Institute of Medicine's Future of Nursing report have on you?
The report came out about two years after I had accepted the position of founding dean of the Betty Irene Moore School of Nursing at University of California Davis, a school established to ignite leadership and advance health through bold system change. The report and its recommendations were highly aligned with our mission and vision, and it was so helpful to have this well-considered analysis and set of recommendations from the Institute of Medicine to amplify our message and guide us in program design.
It was also an opportunity for me to become part of the community in California that was energized by the report and eager to implement the recommendations—and I so valued my colleagues across the state who joined forces on this effort.
How have you been involved with the Campaign for Action?
I began as a founding member of the executive committee of the California Action Coalition. I joined the Future of Nursing: Campaign for Action Strategic Advisory Committee in 2012.
It was exciting to be part of developing the state Action Coalition, engaging stakeholders and developing an understanding of our strengths upon which to build, and our areas that needed the most attention. Some highlights were the gatherings of Action Coalition leadership from across the nation, where we shared experiences and generated enthusiasm for ongoing work.
It has also been rewarding to be part of the national Campaign's Strategic Advisory Committee, where we initially focused on how to measure success in a compelling and succinct way and how to support the grassroots efforts across the nation. Recently, I have appreciated our conversations about broadening the influence of nursing through the lens of the Culture of Health.
Of all you have accomplished, what are you most proud of?
I am most proud of the outstanding students, postdocs and junior faculty I have had the privilege to mentor over my career—to see the ripple effect of mentorship, program design, and creating strong learning environments—and the impact they are all having on improving the lives of so many people. It gives me tangible evidence that the future is in good hands.
I am also proud of the policy changes that I have contributed to that promote choice and quality for older adults, based on my practice and research.
What is the most important action that nurses can take to lead the way to improve health and health care in America?
Be bold with our ideas—find ways to contribute those ideas to system change that advances health and improves health care. Recognize where there are opportunities for synergy, and invest your time and energy wisely so that you can have the most impact.
What advice do you have for the next generation?
Recognize the power of critical mass—strive to build your network of colleagues committed to what you care about so that you benefit from diverse perspectives and the strength of one another in advancing health.