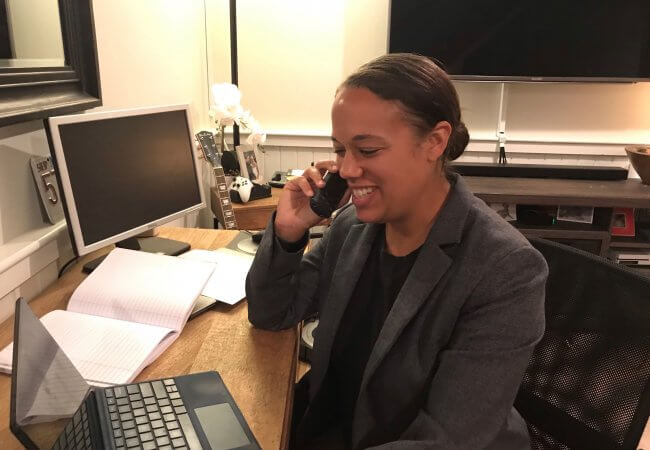 A Season of Contact Tracing Highlights School Nurses' Influence Beyond School Walls
Before 2020, Eileen Gavin, MSN, FNP-BC, NCSN, who co-leads a team of school nurses in Middletown Township, N.J., was in touch with her local health department maybe twice a year. Now she talks with her local health officer several times a day. "Honestly," says Gavin, "it started with the question, 'What can I do to help?'"
The arrival of COVID-19 in Middletown, about an hour from New York City, was overwhelming the health department, so Gavin volunteered to help investigate local cases—a process known as contact tracing. After completing training with the Medical Reserve Corps of New Jersey, she got to work.
Gavin began by asking infected people when their symptoms first appeared and whom they'd seen in the days before and after. She reached out to their contacts, referred them to testing, and suggested they self-isolate or quarantine. These activities define contact tracing, but Gavin's role quickly evolved. She found herself connecting people to food deliveries, mental health services, and insurance and health care providers as she learned of families' concerns. "People were very comfortable sharing a lot of intimate details when they heard I was a local school nurse," she says.
While many contact tracers have failed to gain the public's cooperation, school nurses have succeeded, perhaps because they are qualified for the job in ways few can match. They understand disease transmission, regularly engage in public health surveillance, and know how to educate people about hygiene. Most important, school nurses know their communities, people know them, and that connection fosters trust.
In at least five states, and perhaps elsewhere in the nation, school nurses stepped in as contact tracers when their buildings closed, while tending to a range of other responsibilities. Denise Schwerzler, MSN, RN, NCSN, a school nurse and contact tracer in Weston, Mass., says contact tracing became a full-time job at first, and she spent additional hours each week just keeping up with changes to Board of Health regulations and COVID-19 updates.
Now that school buildings are opening in some jurisdictions, precisely how school nurses will divide their time is unclear, but their contributions during the pandemic have amplified their voices and garnered new respect. The Massachusetts School Nurse Organization has a representative on the state-level reopening committee, and many school nurses, including Gavin and Schwerzler, are serving on committees in their communities.
Another such nurse, Jamy Gaynor, EdD, RN, NCSN, of Marlborough, Mass., says contact tracing deepened her knowledge of the community and her students' needs. The process connected her with one particular family with issues school personnel were "just touching the surface of," she discovered. She was able to connect them with community resources and is pleased that some of those needs are now being met.
In nearby Rhode Island, Linda Mendonca, DNP, PHNA-BC, NCSN, president-elect of the National Association of School Nurses, has advocated for a school nurse on every school district planning committee in the state. Earlier this month, Rhode Island released a playbook with protocols for keeping members of school communities healthy and safe. As the state's school nurse consultant, Mendonca sat in on several reopening meetings, bringing a school health perspective to the governor's office and the departments of health and education. "Some participants were surprised to learn that there weren't nurses in every school. That was a wake-up call. There's an understanding now among those government leaders that it's essential that schools have a school nurse."
If Rhode Island and other states are successful in reopening their school buildings, Mendonca says school nurses will have their work cut out for them. In addition to their usual activities, they'll be expected to assess and isolate symptomatic students and keep up with the latest health and safety guidelines. She's heard that some may be asked to also administer COVID-19 tests, requiring donning and doffing personal protective equipment—a time- and space-consuming endeavor.
"To expect that the school nurse could do contact tracing on top of that is not realistic, but they can educate families on what that process is and really hit the point home that they need to answer the phone and respond to contact tracing calls," Mendonca says.
Back in Middletown, Eileen Gavin anticipates playing a dual role as school reopens. Over the course of the summer, she and her co-lead Cathy Grano, MSN, RN, CSN-NJ, became "go-to" people for questions on isolating and quarantining. "We've been welcomed on advisory boards, led school reentry plans, and presented at school board meetings," Gavin says, but come fall, "I'll also be expected to care for the 1,500 kids and 200 staff members in my school who are very nervous about coming back."
Their solution? While hiring additional school nurses would be ideal, they are already in short supply. Instead, Grano assembled a school-based contact-tracing team in her building, which held a summer program, so that other personnel could take on responsibilities such as notifying parents and identifying close contacts while she cared for and isolated symptomatic students. "We are hoping to have similar teams up and running in our 16 school buildings by the time they open," Gavin says.
Meanwhile, she feels confident that the strong partnership formed between her township's school nurses and the local health department will see them through the pandemic, however it unfolds. Over the summer, Gavin says, they successfully contained a COVID-19 outbreak involving 68 adolescents who attended a non-school gathering. Gavin's connections with the school athletic department alerted her that students were showing symptoms of the disease, and she was able to inform the health department and get contact tracing underway well before test results would have otherwise triggered the process.
"This coordinated partnership is a great model that could be replicated," Gavin believes. "We are able to reach our health officer within minutes, and the school district is glad we have our fingers on the pulse of the community." She says that administrators understand this is going to be a very important mitigation strategy once in-person learning resumes.