Wisconsin Nurse Leader Receives Humanitarian Award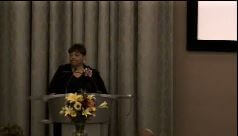 Dr. Barbara Nichols, a Wisconsin nurse leader, a member of the Wisconsin Action Coalition and diversity coordinator for the SIP grant, Taking the LEAD for Nursing in Wisconsin: Leadership, Educational Advancement & Diversity, was recently honored as a recipient of the Martin Luther King, Jr Humanitarian Award.
The ceremony was held January 19, 2015, in Madison with 1,500 people in attendance. In the presentation, Barbara was recognized not only for making outstanding contributions and exemplifying Dr. King's values and non-violent philosophy, but also for her legacy as a leader in the nursing profession.
We in Wisconsin are honored to have Barbara as part of our team for the critical work of implementing the IOM Report and congratulate her for exemplary service to the community and to nursing!