Transforming Nursing Education
More highly educated nursing workforce needed to provide more complex patient care, experts say.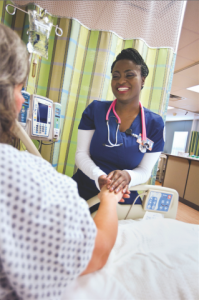 Many registered nurses (RNs) start—and finish—their post-secondary education with an associate degree in nursing (ADN). But health care experts want more nurses to see the ADN as a first step on a career-long educational journey.
"Our goal is to improve health and health care for all Americans," said Susan B. Hassmiller, PhD, RN, FAAN, senior adviser for nursing at the Robert Wood Johnson Foundation (RWJF). "One key way to do that is to build a more highly educated nursing workforce."
That is what RWJF and AARP are doing through the Future of Nursing: Campaign for Action, a nationwide effort to ensure that nurses are essential partners in providing care and promoting health. It is rooted in a 2010 report by the Institute of Medicine (IOM), which recommended that 80 percent of nurses hold bachelor of science in nursing (BSN) degrees or higher by the year 2020, and that the country double the number of nurses holding doctorates.
The IOM report recognized that ADN-prepared nurses are essential to the delivery of health care and that the community colleges that offer ADN programs play a critical role in preparing and diversifying the nursing workforce. But more highly educated nurses are needed to provide more highly skilled care to an aging and more complex patient population, it said. Additionally, more nurses are needed to fill faculty positions and advanced practice roles such as nurse practitioners, nurse midwives, and nurse anesthetists. Having a large enough pool of nurses to draw from for these faculty and advanced practice roles will require that more nurses have a BSN from the onset.
BSN-prepared nurses, in fact, are associated with improved patient outcomes, according to Linda Aiken, PhD, RN, FAAN, director of the Center for Health Outcomes and Policy Research at the University of Pennsylvania School of Nursing. In a study published this past February in the Lancet, Aiken found that hospitals that employ larger numbers of BSN-prepared nurses have lower patient mortality rates.
The Campaign for Action offers strategies to make it easier for nurses to get BSN degrees or higher, including RN-to-BSN degree programs offered at community colleges; state or regionally shared curricula among universities and community colleges; accelerated RN-to-MSN programs; and partnerships that enable students to transition seamlessly from an ADN to a BSN program.
Success Stories
Successes are popping up all over the country. The University of Texas at Arlington College of Nursing, for example, has partnered with Academic Partnerships, a global higher-education service provider, to offer an innovative online RN-to-BSN program. Under the program, students are admitted eight times a year, courses are delivered online in five-week blocks, and academic coaches support the course instructor and help keep students on time and on target.
The program has exceeded expectations, said Beth Mancini, PhD, RN, FAAN, professor and associate dean of undergraduate nursing at the University of Texas at Arlington and a member of the Texas Action Coalition. Enrollment in the RN-to-BSN program has grown exponentially—from fewer than 150 students in 2008 to about 8,000 this spring. The graduation rate is approximately 90 percent, and the student body is more diverse because of the accessible and affordable nature of the program, Mancini said.
In addition, Academic Partnerships has provided the Texas Action Coalition with funds for scholarships to be awarded to minority students entering BSN-completion programs. These scholarships, along with individuals who volunteer as mentors, are part of the Texas Action Coalition's plan to increase minority participation in BSN-completion programs.
"We knew that there were many nurses in Texas and throughout the country who needed accessible and affordable programs to complete their BSNs and hopefully go on to MSNs or doctorates," Mancini said. "They couldn't do it the way most programs were designed, so we developed a program that would work for them."
In Wyoming, meanwhile, nurse leaders are implementing a common, competency-based, statewide curriculum that enables nursing students to start at a state community college or at the University of Wyoming and continue, seamlessly, toward a BSN or higher. The initiative, called ReNEW—an acronym for Revolutionizing Nursing Education in Wyoming—is supported by an RWJF State Implementation Program grant.
And in New York, nurse educators at the City University of New York (CUNY) launched an initiative in 2008 to enable students to progress seamlessly from ADN to BSN programs within the CUNY system. Currently, there are two programs up and running, and the first students are graduating this spring from Hunter College.
The academic journey has been "much smoother for the students" because of the initiative, said Maureen Wallace, EdD, RN, a faculty fellow with the Office of the University Dean for Health and Human Services at CUNY. The initiative has also led to the inauguration of a new online RN-to-BSN program and the creation of a faculty council that is exploring standardized admissions policies and curricula across all ADN programs in the CUNY system, Wallace said.