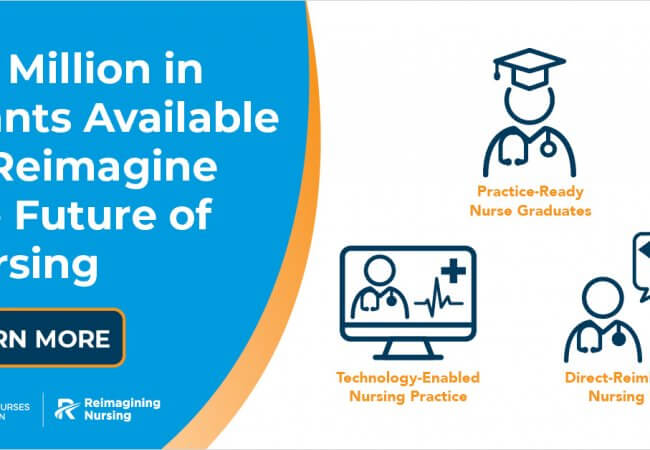 Help the American Nurses Foundation Reimagine the Future of Nursing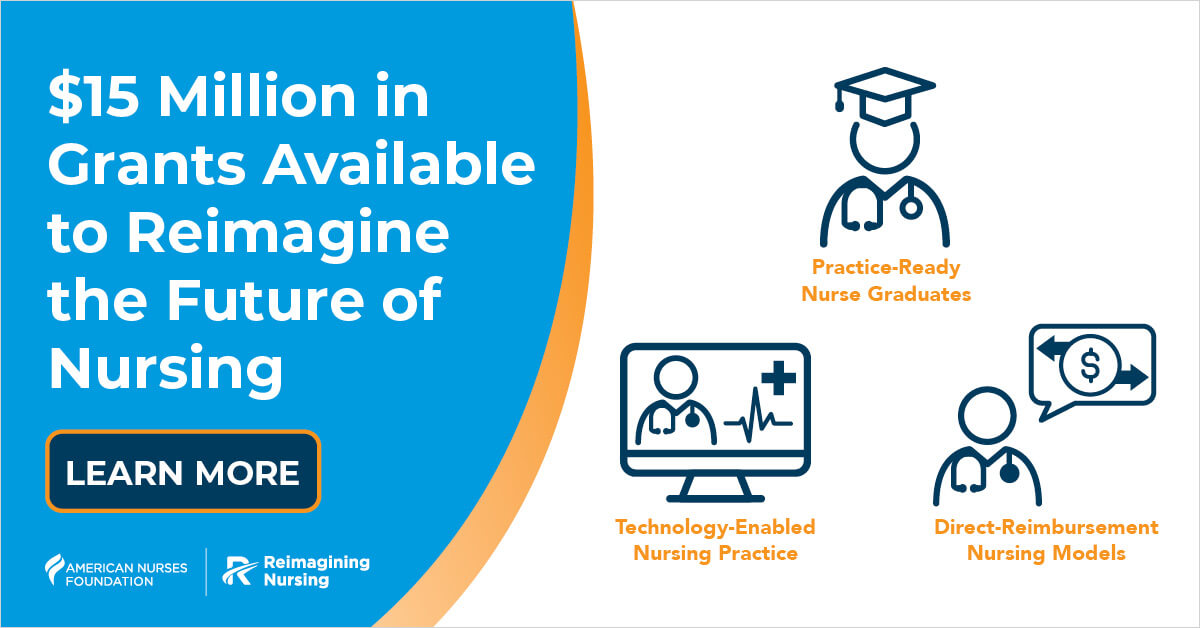 Nurses deliver high-quality, accessible, and equitable care for all Americans. Many health care experts and advocates lament that the current health care system under-develops, under-utilizes, and under-appreciates nurses.
The American Nurses Foundation is committed to changing these dynamics and asks nurses to respond to its request for proposals for bold, innovative, and risky (but not reckless) ideas that will ensure that nurses have access to the knowledge and tools to deliver exemplary care, and the environments in which they can do that important work.
Over the next three years the Foundation will grant a total of $15 million to pilot 11 of these ideas through its Reimagining Nursing (RN) Initiative. The Foundation seeks nurses, academicians, informaticists, computer scientists, developers, and organizations that heighten visibility of the value of nursing and improve health care delivery systems. Applications are due Oct. 25, 2021.
Leaders in nursing, healthcare delivery, regulation, academia, and technology designed the RN Initiative to unleash the potential of a diverse, dynamic nursing workforce to propel society into a healthier future by accelerating change in the following areas:
Education
Pilots will challenge the current educational model to be more competency-focused, maximize the clinical practicum experiences of the student, and expand students' experiences outside of acute care so nurses can be successful from the start in a wide range of practice settings. Innovations will ensure that new nurse graduates immediately contribute to and succeed in a continuously transforming health delivery system.
Technology
Pilots will bring together nurses and technology developers to design and implement technology-based tactics and tools to improve nursing practice. Solutions designed by nurses and for nurses will lead to better tools and higher adoption rates of tools that improve nursing efficiency and patient outcomes and increase access to care.
Direct Reimbursement
Pilots will establish community-based models of care coordination and delivery funded by direct reimbursement for nursing services with clear accounting of nursing impact on outcomes, resulting in greater access, improved outcomes, and clinician engagement. Fundamentally, care delivery in the community by nurses will improve the health of the community through greater accessibility, reduction in inequities, lowering costs, and maintaining or improving the quality of outcomes.
Over the three years of the grants, these 11 pilots will prove that change is possible and pave the way for revolutionary transformation. However, the Foundation does not plan to stop there. The ultimate hope is that these bold ideas can be brought to scale to become common practices. This will require the entire health care field to engage with this work to build momentum for change, inspiring others to test their own ideas and/or replicate the RN Initiative pilots.
By supporting nurse innovators and leaders to transform their profession, the RN Initiative can revolutionize how nurses help meet the needs of vulnerable populations, incorporate the social determinants of health, and speed the pace of health care transformation.
For more information on the Reimagining Nursing Initiative and how to apply for a grant, please visit the website or contact Foundation staff at rni@ana.org.