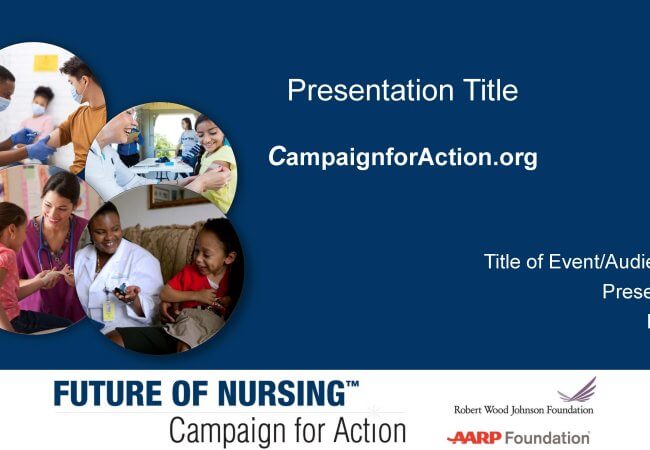 Campaign Overview PowerPoint Presentation and Template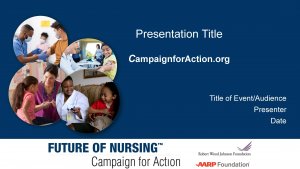 The standard Campaign PowerPoint presentation (currently being updated as of 1-12-2022) and template, below, can help you tell a variety of audiences the story of your Action Coalition and the national Campaign. The long version provides an in-depth look at the Campaign's work and progress, while the short version is ideal for non-nursing audiences.
Disclaimer

The Future of Nursing: Campaign for Action encourages Action Coalitions and Campaign representatives to use the standard PowerPoint slide deck for presentations. The long and short versions may be used as is; simply add the speaker's name, title, date, and venue/audience to the cover slide and master slide where indicated. However, other changes and uses are not permitted:
Slides
Text: Other than the additions noted above, do not alter the text, images, or slides in any manner.
Images: Do not copy the images for use in your own presentations or elsewhere—doing so may violate copyright law, leading to significant fines.
PowerPoint slides: Do not post the slides on any websites, whether it is your site or someone else's, and do not distribute them to audience members without the express permission of Campaign staff.
Template Slide

If you would like to create your own slides, you may use the blank Campaign PowerPoint template (link below). However, because this template bears the Robert Wood Johnson Foundation logo, please:
Do not use such a slide for any presentations that constitute lobbying under Internal Revenue Service rules (e.g., a presentation to legislators or their staff that refers to a specific legislative proposal, or a presentation to the public that refers to a specific legislative proposal and includes a call to action, such as "call or write your legislator").
Do feel free to customize this blank template with text and images, as long as you have appropriate permission for any images you include and your use does not violate copyright law.
These rules are intended to protect copyrighted materials licensed by the Campaign but owned by other entities. Any penalties resulting from improper use of these presentations – including demands for payment from the owners of any images used – are the responsibility of the individual and/or the Action Coalition. If you have any questions about how to use these PowerPoint presentations, please contact Campaign staff for assistance.