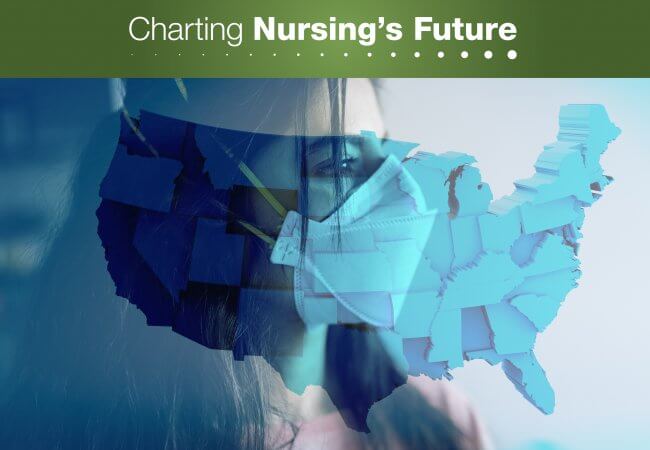 Pandemic Strains the Nursing Workforce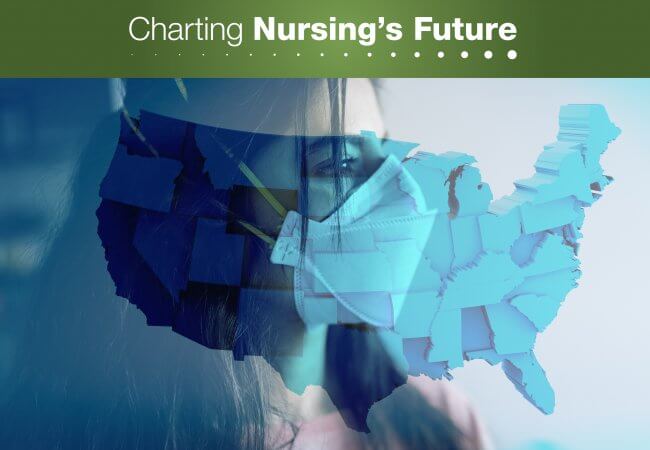 Nurses are facing unprecedented challenges right now—supply shortages, shifting protocols, and uncertainty about their own health status in the absence of readily available tests for COVID-19. With these realities in mind, we've gathered some stories that showcase nurses' responses to the pandemic, their needs at this difficult time, and actions taken by their leaders and government, which directly impact those on the frontlines of care. In this post, we hear what government and nurse leaders are doing to ensure the nursing workforce is adequate and protected during the COVID-19 pandemic. In a separate post, we share the experiences of nurses on the frontlines of the COVID-19 response.
Nurses attend White House briefing
Last week, representatives of 12 national nursing associations advocated for the nursing community and explained nurses' roles in responding to the outbreak during a White House briefing with President Trump, Vice President Pence, and members of the Coronavirus Task Force. In her prepared remarks, Deborah Trautman, PhD, RN, FAAN, president and chief executive officer of the American Association of Colleges of Nursing (AACN), captured the mood of those assembled when she said, "As we look at the challenge before us, it is imperative that the safety of the public, our nurses, and our nursing students, are top of mind."
Debbie Hatmaker, PhD, RN, FAAN, chief nursing officer at the American Nurses Association, stressed several concrete steps that could address safety concerns. She called on the government to promote the use of telehealth and incentivize manufacturers to ramp up production of N95 respirators. She also recommended "implementing creative staffing strategies that utilize nurses who are currently not in direct patient care and senior nursing students to help meet patient demand."
Strains on the workforce are already evident
In some of the hardest hit communities, the need for reinforcements is already a reality. In New York, the state health department has asked recently retired health professionals to register as volunteers who can act as reserve staff. Westchester County Executive George Latimer put out a separate request for retired and non-working nurses with New York State licenses to be on call to meet spiraling health care needs. And in New York City, 1,000 retired health professionals heeded Mayor Bill de Blasio's call to staff drive-through testing centers.
The routine 14-day quarantine of every health professional who becomes exposed to the virus is also constraining the workforce. Jennifer Nuzzo, DrPH, SM, a senior scholar at the Johns Hopkins Center for Health Security, thinks this practice will soon become unsustainable. Instead, she believes hospitals will need to strike a balance between prudent isolation and maintaining a functioning health system.
To address workforce shortages, moves are underway to ease the ability of nurses and other health professionals to practice where they are most needed. On March 18, the federal government announced the Department of Health and Human Services would take steps to allow nurses and other medical personnel to practice across state lines. Several states had already taken steps to grant temporary licenses to out-of-state nurses in order to increase staffing levels amid the COVID-19 pandemic and several others were working with the Centers for Medicare and Medicaid Services on provider licensing waivers. The libertarian Cato Institute applauded states for leading the way on removing occupational licensing barriers and urged governors to seek legislation making temporary license reciprocity permanent. "If making it easier for doctors and nurses to provide care to their state's residents is good in time of emergency, it should be good when there is not an emergency," wrote Senior Fellow Jeffrey Singer.
Currently 34 states are members of the Nurse Licensure Compact, which enables nurses to practice in other Compact states without having to obtain additional licenses. At the start of this month, the Michigan House passed a bill that would make it the 35th state to join the Compact.
All hands on deck? Not necessarily when it comes to students
While some have called for students to fill workforce gaps, many hospitals have cancelled nursing student rotations to protect both students and patients. Nursing students who rotated through the Kirkland, Wash., nursing home that was hard hit by COVID-19 are now in self-quarantine.
Clinical venues that usually host trainees are also concerned about reserving their stocks of personal protective equipment. The AACN has posted guidance advising programs to limit student contact with known cases of COVID-19 while allowing "clinical students to continue their roles as part of the care team." AACN is also hosting a series of webinars to help academic programs make informed decisions, provide leadership, and continue to deliver learning opportunities as appropriate. Meanwhile, the delivery of the nurse licensure NCLEX exam to testing centers in the U.S. and Canada has been delayed.
In the United Kingdom, the government has placed emergency nurse registration at the top of its coronavirus agenda. A proposed law would give the Nursing and Midwifery Council new powers to temporarily register "fit, proper and suitably experienced persons." "We have been clear that students in the last six months of their degree must be free to choose to work," said Royal College of Nursing Chief Executive And General Secretary Dame Donna Kinnair. "They must also be supported and supervised during their placements, and be properly remunerated."