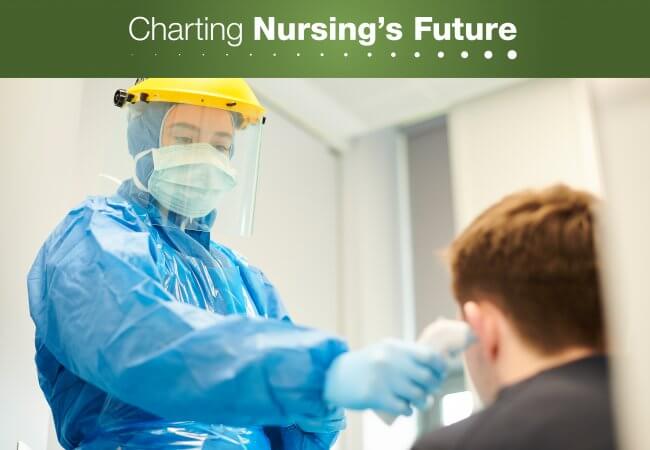 Nurses on the Frontlines of the COVID-19 Response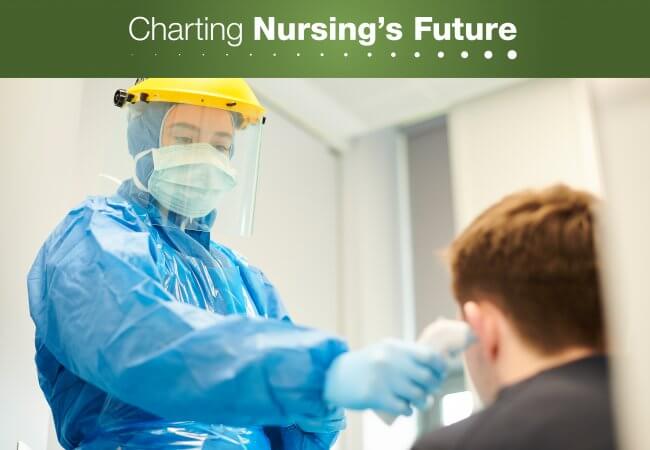 Nurses are facing unprecedented challenges right now—supply shortages, shifting protocols, and uncertainty about their own health status in the absence of readily available tests for COVID-19. With these realities in mind, we've gathered some stories that showcase nurses' responses to the pandemic, their needs at this difficult time, and actions taken by their leaders and government, which directly impact those providing care. In this post, we hear from nurses on the frontline. In a separate post, we look at what government and nurse leaders are doing to ensure the nursing workforce is adequate and protected during the COVID-19 pandemic. 
Preparedness varies
At Seattle's Swedish Medical Center, which treated some of the first U.S. patients diagnosed with COVID-19, intensive care unit nurse Stephanie Bandyk, RN, painted a reassuring picture last week. She reported that she and her colleagues had adequate personal protective equipment (PPE) to do their jobs safely and that educators were readily available to staff, making sure everyone was using their PPE properly.
In contrast, Missouri-based travel nurse Rainee Sinroll, RN, told STAT News, "This is unlike any other outbreak I've been involved with." Sinroll worked during the H1N1 epidemic and has spoken with other health workers in her region. "There's absolutely no training and information to the staff that will be involved. And no message to the community that would lower cases, thereby allowing better care in our facilities."
STAT also quoted other hospital employees frustrated by their inability to get tested for COVID-19 despite having recently been ill. A certified nurse assistant (CNA) in Alabama described the situation as confusing, arbitrary, and chaotic. "No one among the CNA staff is talking about this in any meaningful way," she said. "If the nurses are, I don't know about it."
"Nurses often face what is called moral distress—defined as knowing what should be done for a patient while at the same time being unable to provide the appropriate care, often because of constraints imposed by organizations or practice settings," wrote University of Pennsylvania nursing and bioethics professor Connie Ulrich, PhD, RN, FAAN, in a March 10 op-ed in The Boston Globe. She cited a national survey, which had 8,200 respondents as of March 16. Most of those nurses reported their employers had inadequate protective equipment on hand and had not sufficiently informed them about how to recognize and respond to cases of COVID-19.
Many of these concerns center on the risk health workers face of contracting the virus given insufficient stocks of PPE, insufficient training in how to use it properly, and shifting guidance. The Centers for Disease Control and Prevention (CDC) revised its interim infection prevention and control recommendations for COVID-19 in light of increased demand for PPE and supply-chain disruptions. "Many of us were taken aback to read the new document," wrote Betsy Todd, MPH, RN, in the American Journal of Nursing's Off the Charts blog. She explained the CDC rationale for recommending the use of regular surgical face masks instead of N95s and reminded readers that PPE is not the only line of defense against the virus. "Engineering and administrative controls are considered the most effective infection prevention measures, because they are 'built into' physical systems and protocols," she said.
Self-care
As rewarding as it is, nursing is a challenging profession under the best of circumstances. Under current conditions, nurses need all the support they can get to stay healthy and well. For some, free access to the Headspace meditation and mindfulness app may help. For others, the knowledge they acquire from Nurse.com's free course on COVID-19 may give them a greater sense of control. For those not engaged in direct care, such as the Berkeley, Calif., nurse-midwife student Britt Urban, RN, who is organizing volunteers in her community, finding a purpose and serving others may provide a path through this crisis.
Last week, one nurse at a major New York hospital shared her fears and the source of her strength—from first hearing about the virus in January until last week, when she volunteered to fill in on a unit that had placed many of her colleagues in quarantine. "I'm staying calm by thinking about how I've handled really tough days in the past before—and I got through it," she said. "I have a really great team of nurses that I've worked with and I'm not alone in this. This is going to be something that we will get through."