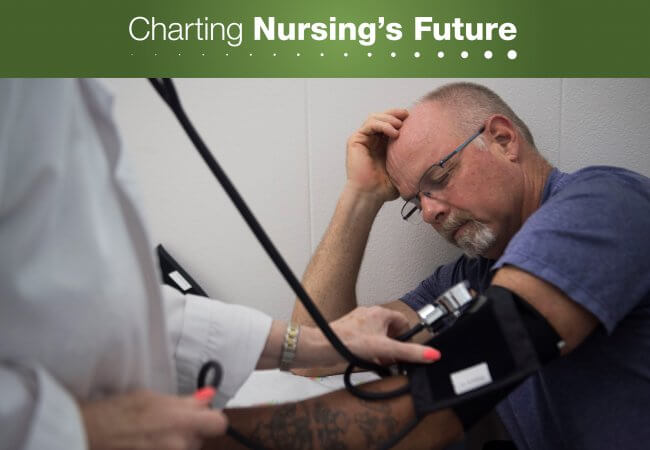 Nurse Practitioners Help Truckers Keep on Trucking
Truck drivers' health affects us all. According to a 2017 study published in the Journal of Occupational and Environmental Medicine, commercial truck drivers with three or more medical conditions have two to four times the risk for being in a crash compared to healthier drivers.
For decades, many medical examiners—typically physicians—would sign off on truck driver fitness after a perfunctory exam. "When I'd drive into Georgia on Interstate 75, I'd see billboards that read: $10/DOT Physicals, guaranteed to pass," said Wendy Paracka, MS, ARNP-BC, FAANP, owner and founder of Remise Health Solutions in Florida.
The Department of Transportation (DOT) requires all truck drivers to undergo a DOT physical at least every 24 months. In 2012, after a series of high-profile accidents, DOT's Federal Motor Carrier Safety Administration started requiring that clinicians be nationally certified. That new certification test was opened to "any licensed healthcare provider licensed by the state to perform physical examinations," including nurse practitioners (NPs), and other advanced practice registered nurses (APRNs).
NPs such as Paracka stepped up in large numbers. Since the final rule went into effect in 2014, NPs and other APRNs have accounted for roughly a third of DOT-certified medical examiners see the exam as a starting point for working with truckers to actively improve their health.
"The goal is not just pass or fail a DOT physical, but how can we help you have a long career? How can we help you stay on the road, be healthy, live a long life and enjoy your family?" says Kathleen Dailey, DNP, FNP-C, DOT-CME, senior education leader with CVS Health's MinuteClinic, a leading provider of DOT physicals.
"If they don't have a primary care provider, we look to get them a primary medical home. If they can't get to their medical home, we look to fill the gap. If they have a chronic illness, we can help them with managing it," says CVS's Dailey.
Roughly 70 percent of truckers are obese. Half of truckers smoke, and the rate of diabetes in truckers is twice that of the general population. Hypertension, high cholesterol and sleep apnea commonly affect truckers, whose itinerant lifestyle also increases their risk of loneliness, depression and anxiety.
Making Care Convenient
Good primary care can help people with these chronic conditions reduce their chances of experiencing a life-altering heart attack, stroke or accident. But because truck drivers are on the road all the time, keeping appointments can be a challenge, and most clinics don't have parking space for an eighteen-wheeler.
Enter UrgentCareTravel, which opened its first clinic at a Pilot Flying J Travel Center four years ago. The clinics, staffed by NPs, are an innovative attempt to provide health care to an important and largely underserved population.
"Truckers may not be seeing their primary care providers because it's inconvenient," says Kate Heidorn NP-C, chief nursing officer for UrgentCareTravel, the Medical Clinic Network at Pilot Flying J. "We don't want their health to be a problem because of the inconvenience of finding a place to park their truck."
Truckers appreciate the effort. The pairing of NP-staffed medical clinics and truck stops has been so well received that by the end of 2017, seven UrgentCareTravel clinics were open at Pilot Flying J locations. By early 2019, the number will increase to 25.
Innovative Delivery Models
Locating medical clinics in truck stops is just one way nurses are reaching this highly mobile population. They're also exploring and experimenting with other innovative health care delivery models, including telehealth and podcasting.
Mona Shattell, PhD, RN, FAAN, a Rush University nurse researcher, hosts "Health on the Highway," a Progressive Insurance-sponsored Trucker Territory podcast that delivers important mental health information to truckers in the cabs of their trucks, on demand. Episodes have covered chronic stress, post-traumatic stress disorder and family tension.
Shattell and Karen Heaton, PhD, CRNP, FNP-BC, a University of Alabama School of Nursing associate professor (who is married to a truck driver) are also working on a study of sleep, post-traumatic stress and mindfulness in truckers, and their use of mental health services.
"We're finding some interesting things, and there are implications for nurses to be involved in novel ways to deliver health care to truckers and other remote workers using telehealth, mobile health applications and so forth," says Heaton.
Such work is an important step toward improving trucker health and public safety. As Heaton says, "The more mindful and mentally well truck drivers are, the better it will be for all of us who share the road."
It could also be better for the American economy. Driver shortages are the number one concern for the trucking industry. By 2025, the American Trucking Associations estimates a shortfall of 175,000 drivers. Approximately 20 percent of drivers who leave their jobs do so because of health problems.
Want to become a DOT Certified Medical Examiner?
NPs and other APRNs who can legally perform physicals can expand their practices to include DOT certification exams by:
Completing a qualified training course. The AANP CMV Examiner program is a one such option.
Creating a national registry account at https://sfm.fmcsa.dot.gov/nrcme/register.
Passing the certification exam. You must pass the exam within three years of completing your coursework.