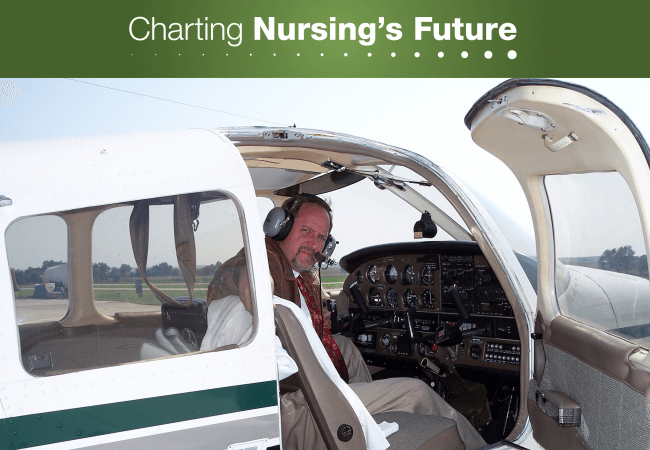 Nurse Practitioners Help Keep the Roads Safe—Why Not the Rails and Skies?
Nurse anesthetist Steven Wooden, DNP, CRNA, NSPM, relies on his private plane and pilot's license to effectively provide anesthesia services in rural Nebraska. He's logged more than 40,000 flight miles while providing anesthesia coverage to at least nine hospitals, some as far as 200 miles from his home. He says that finding a certified medical examiner to perform his U.S. Department of Transportation-required pilot's license physicals can be a challenge.
"It's becoming more difficult to find qualified physicians to do these examinations," says Wooden, "especially in rural areas, as many of these examiners are reaching the age of retirement." According to Wooden, private pilots sometimes must wait weeks for an exam or travel an extended distance to find a willing and certified medical examiner.
To protect the public's safety, the DOT requires pilots, railway engineers, and truck drivers to submit to periodic physical exams. The DOT allows nurse practitioners (NPs) and several other providers to perform the exams for truck drivers, but not to assess the physical fitness of pilots and railway engineers—a rule that some think should be changed.
In 2017, the American Association of Nurse Practitioners (AANP) asked the DOT to update its regulations, saying its recognition of NPs to provide health evaluations for truckers "should be reflected throughout the DOT regulations." Specifically, AANP recommended that the DOT broaden its definition of certified medical examiner for the aviation and railroad administrations so NPs can contribute to safety on the rails and in the skies as well as on the roads.
Any willing physician is eligible to seek certification as a Federal Aviation Administration or Federal Railroad Administration medical examiner, "whether or not that physician has had preparation in occupational health," says Jean Aertker, DNP, ARNP-BC, COHN-S, owner of Tampa Occupational Health Services, which offers truck driver physicals. "A nurse practitioner who has had years of training in occupational medicine is not allowed to do that. That seems to be a wasted opportunity," she says.
If NPs' track record with truck drivers is any guide, these providers could also help other transportation workers get their chronic conditions under control and manage the stresses associated with itinerant lifestyles. (To learn more about how nurses keep truckers healthy, read Nurse Practitioners Help Truckers Keep on Trucking.)
"Authorizing nurse practitioners to fulfill these roles increases access to care and allows patients to select their provider of choice," says David Hebert, AANP's chief executive officer. According to DOT data, NPs and other APRNs now make up roughly one third of the certified medical examiners who offer truck driver physicals. With another 6,000 NPs in the process of applying for certification to examine truckers, the availability of these providers is poised to increase significantly. Adopting the AANP's recommendations could dramatically increase provider options for all populations seeking DOT physicals.