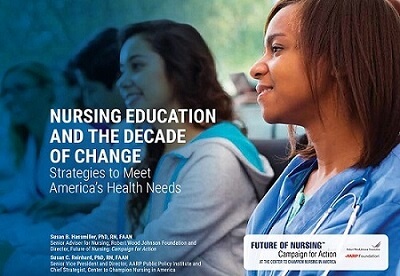 Compendium Tracks Key Decade of Change for Nursing Education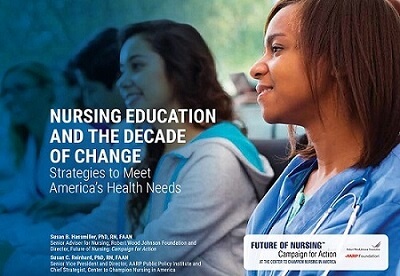 Nursing education has changed a lot in 10 years, and much of the progress can be pinned on the success of two programs that recently came to an end: the Academic Progression in Nursing (APIN) program, which ran 2012 through 2016, and the State Implementation Program (SIP), which funded states 2013 through 2017, including 21 working on academic progression.
Their ending is just the beginning for further growth, hope many involved in both projects, which were funded by the Robert Wood Johnson Foundation. To that end, the Future of Nursing: Campaign for Action, an initiative of AARP Foundation, AARP and the Robert Wood Johnson Foundation, has published a compendium that celebrates APIN and SIP and also provides lessons and strategies the programs gleaned over the years so that others can continue the work.
Nursing Education and the Decade of Change: Strategies to Meet America's Health Needs reports on the ways in which APIN and SIP projects worked with educators, businesses, and government to remove the various obstacles that slowed or stopped nursing students from obtaining more advanced degrees. Woven throughout the historical notes and the summaries of both projects are tips and ideas from schools and universities that have embraced and furthered the innovations.
APIN, coordinated by the Tri-Council for Nursing, worked with nine states; SIP, coordinated by the Center to Champion Nursing in America (also an initiative of AARP Foundation, AARP and RWJF), funded 21 states working on academic progression. Together, over the years, the compendium tells how the projects honed five education models that today are used in whole or in part in states and regions across the country.
The Tri-Council for Nursing is an alliance of four nursing organizations focused on leadership for education, practice, and research: the American Association of Colleges of Nursing (AACN), the American Nurses Association (ANA), the American Organization of Nurse Executives (AONE), and the National League for Nursing (NLN).
"The Tri-Council hopes this booklet, which summarizes the great achievements in academic progression over 10 years, will inspire schools of nursing, employers of nurses, and others to support even bigger gains in the coming years," said Deborah Trautman, PhD, RN, FAAN, President and CEO of AACN; Marla J. Weston, PhD, RN, FAAN, CEO of ANA; Susan Gergely, MBA, CEO of AONE; and Beverly Malone, PhD, RN, FAAN, CEO of NLN, in a joint statement.
As Nursing Education and the Decade of Change explains, the movement to increase the number of nurses with bachelor's degrees gained traction in 2010, with the release of The Future of Nursing: Leading Change, Advancing Health. The report from the then-Institute of Medicine (now the Health and Medicine Division of the National Academies) called for 80 percent of nurses have at least a bachelor's in nursing by the year 2020. At the time, the figure hovered near 50 percent.
"The increasing numbers of nurses getting their bachelor's and advanced degrees tell the story," said authors Susan Reinhard, PhD, RN, FAAN, and Susan B. Hassmiller, PhD, RN, FAAN, "but this handbook shows why, historically, the recent progress is so impressive." Reinhard, senior vice president and director at the AARP Public Policy Institute and chief strategist of the Center to Champion Nursing in America, and Hassmiller, senior adviser for nursing at the Robert Wood Johnson Foundation and director of the Campaign for Action, have been involved for years in strengthening nursing education, and oversaw the efforts of APIN and SIP. "More important, we hope this handbook will inspire other academics, clinicians, hospitals and health systems to work together to help those dedicated to nursing to push for these changes in their states and regions."