Advance Your Nursing Education: Open House
Calling all nurses — students and working — to the RN Educational Advancement Open House on October 27 in Holyoke, MA.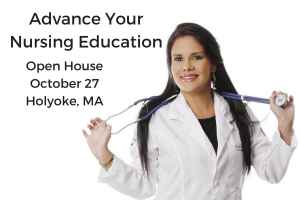 Hosted by the Western MA Nursing Collaborative, the event is for student nurses nearing graduation and practicing RNs interested in advancing their education.
Thursday, October 27
4:00 – 7:00pm (stop by any time)
Supervised activities available for children ages 4-12
All attendees will be entered to win a $500 scholarship towards their nursing textbooks.
At 6:00pm, Nancy Shendell-Falik, president of Baystate Medical Center and senior vice president of hospital operations at Baystate Health Inc., will deliver a special presentation on her professional journey "From RN to President."
Download the flyer for more details.