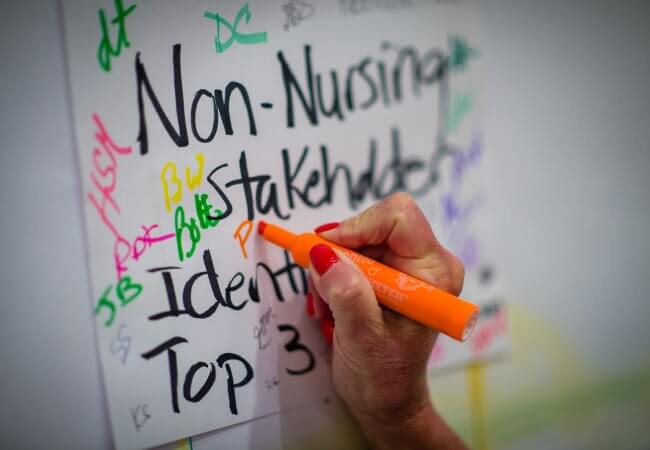 AARP, RWJF Leaders Write About Combined Histories, Successes
When the nation's largest philanthropy devoted to improving health and health care connected with the nation's largest consumer membership organization, good things were bound to happen. And so they have: The mutual desire to create better health for all brought the Robert Wood Johnson Foundation and AARP together years ago in a sustained collaboration reaching for an ambitious goal.
Writing in the October edition of Nurse Leader, Susan B. Hassmiller, PhD, RN, FAAN, senior adviser for nursing at RWJF and director of the Future of Nursing: Campaign for Action, and Susan Reinhard, PhD, RN, FAAN, senior vice president and director of AARP's Public Policy Institute and chief strategist for the Center to Champion Nursing in America, explain why the partnership among AARP Foundation, AARP, and RWJF was begun in 2007. RWJF knew that by working with AARP, the nation's largest nonprofit, nonpartisan organization dedicated to empowering people 50+, which is also influential in health policy and has offices in all 50 states, their efforts to strengthen nursing could take root and blossom with consumers, communities, and policymakers across the country.
The initial partnership took form as the Center to Champion Nursing in America (CCNA), whose focus was on nursing workforce issues that affect consumers, notably the nursing and nurse faculty shortage. The collaboration expanded its ambitions with the 2010 report from the Institute of Medicine (now the National Academy of Medicine). From that was born the Future of Nursing: Campaign for Action, and its state Action Coalitions that began pursuing the recommendations the IOM made in its Future of Nursing report.
In their article, Hassmiller and Reinhard lay out how in recent years the Campaign has continued its work while defining more clearly its overall goals: to promote health and well-being and to improve health equity for all. This framework of building a culture of health also complements AARP's mission to empower people to choose how they live as they age.
It also prepares CCNA and the Campaign well for a new RWJF-funded National Academy of Medicine report due out at the end of 2020, one that charts a path for the nursing profession to help the United States improve the health and well-being of the population in the 21st century.
Read how RWJF and AARP have combined strengths and missions *
*Posted with permission from Elsevier.  https://www.sciencedirect.com/journal/nurse-leader.