Plenty of Industries See the Larger Benefits of Supporting Nursing and State Coalitions
Michelle Miller is always looking for those who can help Missouri's largest health care foundation meet its mission—to improve the health of people and communities in the Show-Me State. As public policy liaison at the Missouri Foundation for Health, she struck gold when she learned of the Missouri Action Coalition (MOAC) and its effort to familiarize Missouri's 125,000 licensed nurses with the Institute of Medicine's (IOM) landmark report on nursing.
The Missouri Foundation for Health's $92,000 grant is helping MOAC communicate with and educate Missouri nurses about health policy and advocacy issues. But the foundation isn't the only one to recognize a worthy cause: Tina Lear, MOAC's executive director, said that a number of organizations and associations—including those focused on nursing, health, and higher education—have contributed $155,400 in 2015, while nearly $35,000 has been pledged for 2016.
"We are really pleased MOAC came to us," said Miller, who was instrumental in getting her foundation to provide MOAC with monetary and operational support to help implement the IOM report's recommendations.
That's the message from hundreds of organizations that have provided more than $13 million to state Action Coalitions since the Campaign launched in 2010. Encouraged by matching grants from the Robert Wood Johnson Foundation's State Implementation Program (SIP), businesses, insurers, foundations, hospitals, government entities, and other funders that understand the critical role nurses play in promoting health are providing cash and in-kind support to bolster state efforts to implement the IOM recommendations.
Miller gives voice to the reasons many state Action Coalitions have been backed by multiple organizations that support the cause of better health: "Nurses are highly trusted and highly informed."
Pennsylvania and West Virginia have won support from an impressive array of funders, too.
Since 2012, the Pennsylvania Action Coalition (PA-AC) has raised $430,000 "from a diverse range of funders, including foundations, major hospital systems, nursing schools, trade associations, an insurance plan, a health care union, and a nonprofit public health institute," said PA-AC director Sarah Hexem.
For example, the foundation of the global medical technology company Masimo is providing PA-AC with $150,000 over three years to build a communications infrastructure and pursue additional funding opportunities.
Masimo, which also serves as PA-AC's non-nurse co-lead organization, "offers a perspective well beyond traditional nursing stakeholders, while positioning nurses at the forefront of high-quality patient care and technological innovation," said Hexem. "The partnership affirms the critical role of nurses in improving patient safety."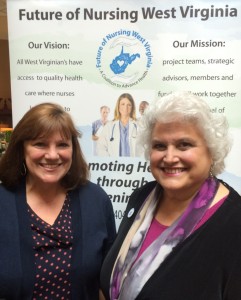 And in West Virginia, the Claude Worthington Benedum Foundation provided that state's Action Coalition with $50,000 to create an online education program with on-site mentoring to improve retention of new nurse graduates. The project also is designed to bolster leadership skills among nurses so they can lead the change needed to increase access, reduce costs, and improve the quality of health care, says Aila Accad, executive director of the West Virginia coalition.
"West Virginia has a big medical worker shortage in many areas," says Kim Barber Tieman, a Benedum Foundation program officer. "We need a well-prepared workforce, especially with an additional 170,000 people getting coverage under West Virginia's Medicaid expansion. Nurses are playing a much greater role in health care, particularly in rural areas."
Tieman's conviction is one that is sure to ring true for many organizations across the country.
This story appeared in the July 2015 issue of Advancing Health: News from the Campaign for Action.