Oregon Education Workgroup Produces Video
The Oregon Action Coalition's Education Workgroup released a new video, "Nurses: You Can Get Your BSN!" featuring five Oregon nurses who had the experience of going back to school and earning their BSN. These nurses described their motivation for returning to school, how they chose their program, how they paid for courses, and what they did to overcome barriers.
The IOM Recommendation for 80 percent of the nursing workforce to pursue higher nursing education, and hold a BSN degree by 2020 is an ambitious one, and Oregon has consistently made innovative strides to seamlessly transition nurses from ADN to BSN programs. However, currently, only 49 percent of Oregon nurses hold a BSN degree or higher. To help move more nurses toward BSN preparation, the Education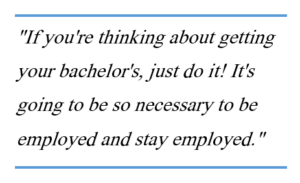 Workgroup of the Oregon Action Coalition has started a campaign to encourage nurses to go back to school to earn a BSN.
The Education Workgroup has created a list of Frequently Asked Questions to help nurses understand how to overcome barriers to BSN education, as well as provided a list of schools offering RN to BSN education programs.
"Being in it has been a confidence booster," Sadie says in the video. "I can go back to school. It is doable."
Special thanks to Anastasia Rose, MEd, MSN/MHA, RN, CCRN-K and Sherrill Hooke, RN, MEd from the VA Portland Health Care System for their work on this project!