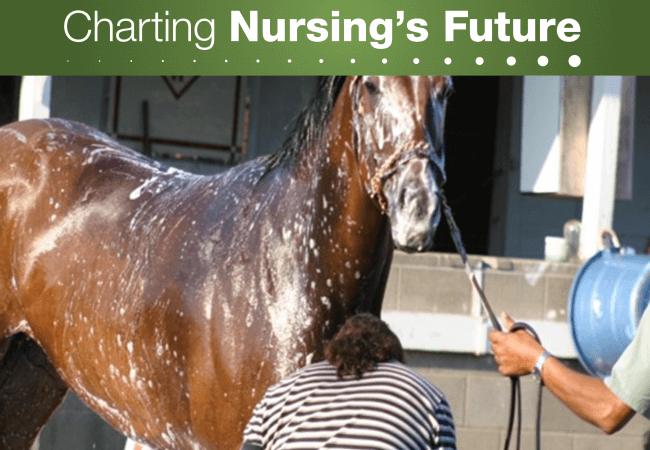 Nurses Support the Health of Horse Racing's Invisible Workers
The Kentucky Derby is Saturday, May 5. 
The Kentucky Derby calls forth images of giant racehorses, garlands of red roses, and fans wearing elaborate hats and sipping mint juleps.
But behind the track's public face are low-wage workers who labor in the backstretch, near the stables. They exercise, feed, and shampoo the horses, clean stalls, and lift hay bales. Up at 4 a.m., these migrant workers often don't speak English, are unfamiliar with U.S. culture and customs, and as independent contractors, don't receive health insurance.
The University of Louisville School of Nursing set out in 2005 to meet the health needs of this invisible population. The school partnered with a track-funded non-profit organization to create the Kentucky Racing Health Services Center. Today, the clinic—run and staffed by nurse practitioners (NPs)—is unique in the racing industry, providing a source of comprehensive primary health care for licensed racetrack workers. Not only is the quality of care high, but the clinic has proven it saves money over fragmented, episodic care.
"Our goal has been to fill a need and offer continuity of care," says clinic Founding Director Whitney A. Nash, PhD, APRN, who is also an associate professor and associate dean of practice and service at the University of Louisville School of Nursing. She grew up around the city's horse racing industry and has long been interested in underserved populations. "It's not uncommon to have a 40- or 50-year old patient who has never seen a provider," she says. "We are starting from the very, very beginnings of a plan of care."
Providing Continuity of Care
Most patients learn about the Racing Health Services Center through word of mouth and come in because they are sick. The clinic operates in an old schoolhouse 10 minutes by foot from the Churchill Downs racetrack. Open from 10 am to 3:30 pm daily, the hours workers aren't at the track, the center offers physicals, well-women services, mental health care, and care for chronic conditions such as asthma, diabetes, and hypertension.
The Center is staffed by faculty at the University of Louisville School of Nursing. Two nurse practitioners who specialize in treating adults anchor the clinic and receive support from nurse practitioners specializing in family practice, women's health, and psychiatry on a rotating basis. The psychiatric nurse practitioner, a new addition, has allowed the clinic to better identify and treat patients with depression, substance abuse problems, and attention deficit hyperactivity disorder. A variety of the university's nursing, medical, community health, and nurse practitioner programs use the site for clinical rotations.
The center has a patient population of up to 1,800 patients each year and follows nationally-accepted clinical guidelines for screening and diagnosing diabetes, a condition for which its patient population is at risk. Of the patients with diabetes being managed by clinic staff, the vast majority are up to date on prescriptions and tests. A full 91 percent of these patients receive eye exams, and 84 percent receive foot exams, percentages that far exceed 2010 national averages for diabetes patients of 52 and 67 percent respectively.
Generating Cost Savings
Care at the clinic is paid for by the Kentucky Racing Health and Welfare Fund, which provides money for workers' medical, dental, vision, and funeral expenses and contributes to a modest worker retirement benefit. Most of funding comes from un-cashed winning tickets from Churchill Downs races. The proceeds are sent to the state of Kentucky, which then uses the money to support the fund.
The Welfare Fund began paying for workers' medical care before the clinic opened, but in those days, many track workers went without primary care or used the emergency room.  If they saw a provider, care was episodic—and there was typically no follow-up. The establishment of a nurse practitioner-run clinic, providing comprehensive primary care, has significantly reduced the cost of the track workers' care. In the first five years of clinic operations, the welfare fund saw a 10 percent reduction in annual medical expenses. In the second five years, medical costs fell another 24 percent.
"Consistency of provider is a huge thing," explains Nash. "If you get one provider and then you move to another, they repeat tests.  We also follow established prescribing protocols that say, 'start with a generic.'"
The clinic's policy of writing prescriptions for a 90-day supply to ensure that patients continue to manage their chronic conditions as they follow their racehorses around the U.S. also helps to keep workers healthy and costs in check. Nash believes such a model, with another source of funding, could potentially to be used in other states to fund services for low-wage migrant workers.