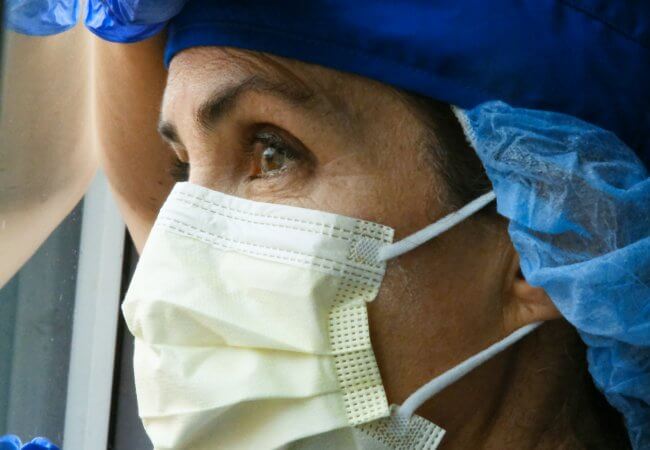 Novel Programs Support Nurse Well-Being During Pandemic
"We knew, going into the pandemic, that nurses' stress was off the charts," says Kate Judge, executive director of the American Nurses Foundation, the philanthropic arm of the American Nurses Association. According to a 2016 study, registered nurses suffer from depression at twice the rate of other professionals; a 2018 survey found that approximately half of U.S. nurses experience suboptimal physical and mental health. Caring for acutely ill infectious patients, like those with COVID-19—without sufficient resources or while juggling childcare, remote learning, or ever-evolving government restrictions—is likely to take an additional toll on nurses' well-being.
The largest study in the United States to document the psychological impact among nurses and advanced practice providers; defined in this study as nurse practitioners and physician assistants, physicians, residents and fellows working on the front lines at the height of the COVID-19 pandemic in New York City, found that levels of stress, anxiety, and depression were highest among two of the groups; nurses and advance practice providers.
In another study, Chinese and Italian health care workers exhibited increased symptoms of depression, anxiety, and post-traumatic stress disorder after caring for COVID-19 patients in the early weeks of the global pandemic. Frontline nurses reported secondary trauma—the emotional upheaval resulting from exposure to the traumatic impact of coronavirus infection on individuals, families, and communities. Evidence shows that secondary trauma can lead to burnout and early exit from the nursing profession, so concerned employers and nursing associations developed accessible support systems for American nurses.
Here is how three different organizations are helping nurses during the COVID-19 pandemic. We realize there are many other programs and welcome your sharing information about them with us in the comments box below.
UnitedHealth Group: Joy in Practice
Approximately 18 months ago—well before any of us had heard the term "COVID-19"—UnitedHealth Group launched the Joy in Practice initiative. Its intent: to create an environment where clinicians experience professional joy and purpose—steps that help prevent and mitigate burnout.
According to Mary Jo Jerde, MBA, RN, FAAN, senior vice president at UnitedHealth Group and leader of its Center for Clinician Advancement, focusing on joy was a deliberate action. "We believe joy is more than the absence of burnout and the associated stigma around mental health concerns," Jerde says. "Our clinicians told us, 'Make it positive.' Joy is about connections to meaning and purpose."
Prior to COVID-19, the initiative had already produced an hour-long webinar entitled, Finding Joy in Practice Again, and multiple podcast episodes on topics such as self-renewal and purpose. When the COVID-19 crisis hit the United States, the Center for Clinician Advancement quickly scaled up and adapted current offerings to better meet current needs.
A 90-minute webinar on mental health and COVID-19 was initially attended by nearly 3,000 UnitedHealth employees. The webinar was repackaged as four podcast episodes so busy nurses could consume content at their convenience.
"We're bringing forward tools that everyone can use to support each other," Jerde says. "Investing in these programs is a tremendous priority for UnitedHealth Group. We want our highly-skilled professionals to remain and develop at our organization."
Research supports the wisdom of that investment. One recent study shows that every dollar invested in employee wellness provides a return on investment of $3.00 to $4.48.
Trusted Health: Just-in-Time Support for Frontline Nurses
When Dan Weberg, PhD, RN, Head of Clinical Innovation at staffing agency Trusted Health, saw the impact of COVID-19 on Trusted's nurses in New York City and Michigan, two COVID-19 hotspots, he reached out to his former mentor Bernadette Melnyk, PhD, APRN-CNP, FAANP. "Our nurses are so stressed," he told Melnyk, and asked what they could do together to help.
Melnyk is chief wellness officer at The Ohio State University (OSU) and dean of the College of Nursing. Her research has demonstrated that cognitive behavioral skills training can improve nurses' mental health, healthy lifestyle behaviors, and job satisfaction. Together, Weberg and Melnyk brainstormed an innovative solution: an emotional support line and an optional wellness coaching initiative to teach cognitive behavioral skills to nurses caring for COVID-19 patients.
"Many nurses who call the support line just need validation that the stress, depression, and anxiety they're experiencing is normal for what they're going through," Melnyk says. OSU nurse practitioner faculty and students, who staff the support line, also suggest simple evidence-based strategies such as deep breathing while washing hands, steps nurses can take to feel better amid overwhelming stress.
Trusted Health nurses can also opt into a four- or eight-week wellness program that includes cognitive behavioral skills building, mindfulness, and therapeutic communication. Participants work one-on-one with a wellness support partner. Weekly sessions are tailored to participants' needs.
"If you have problems with emotional eating because of your stress, we can help you with that," Melnyk says. "If you're experiencing anxiety or depressive symptoms, we can teach you cognitive behavioral techniques that not only will help you now, but also help you the rest of your life."
American Nurses Foundation: National Well-Being Initiative for Nurses
In May 2020, the American Nurses Foundation launched the National Well-Being Initiative for Nurses, a collection of resources intended to help nurses build resilience and heal from the trauma caused by COVID-19.
Created in partnership with the Emergency Nurses Association (ENA), the Association of Critical Care Nurses (AACN), and the American Psychiatric Nurses Association (APNA), the initiative offers a variety of evidence-based interventions, including:
Nurses Together: Connecting Through Conversations, hour-long peer support calls led by ENA nurses.
Narrative Expressive Writing, a five-week program that involves responding to COVID-19-related writing prompts and includes feedback from a certified responder.
Happy and Moodfit, two apps that help nurses monitor their moods, strive for wellness goals, and access emotional support.
A self-assessment tool to help nurses understand their mental health needs.
Hotlines and resources to connect nurses to additional support.
"The purpose of the Well-Being Initiative is to provide easy-to-access tools to help nurses process, respond to, and recover from the pandemic," says Judge, executive director of the American Nurse Foundation. "This isn't just about becoming the best nurse you can be; it's about helping nurses become happy and whole."
ENA president Mike Hastings, MSN, RN, CEN, has led a couple of the peer support calls and is inspired by the camaraderie and community among nurses. "We may work in different care settings, but we all face the same struggles," Hastings says. "We're not alone, and together, we will get through this."