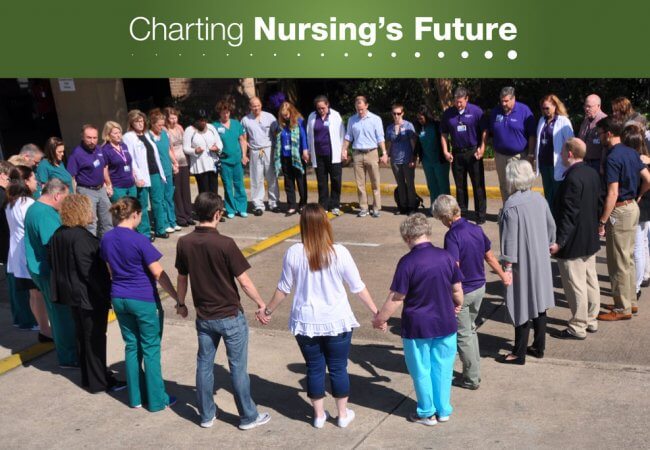 Hurricane-Battered Hospital Offers Lessons in Disaster Preparedness
When Hurricane Harvey hit the Gulf Coast in late August 2017, nearly 100 nurses and other licensed professionals who work for CHRISTUS Southeast Texas St. Elizabeth Hospital in Beaumont, Texas, were stranded at home. Yet St. Elizabeth remained open, having strengthened its disaster preparedness after years of practice and planning. That preparedness served the nurses and patients at St. Elizabeth well—and offers lessons for nurses and health care administrators as the incidence of climate-related natural disasters climbs.
"I truly believe that all practicing nurses need a minimum understanding of the disaster lifecycle: mitigation, preparation, response, and recovery," says Tener Goodwin Veenema, PhD, RN, FAAN, Johns Hopkins School of Nursing Associate professor and an internationally recognized expert in disaster nursing and public health emergency preparedness.
CHRISTUS St. Elizabeth: An Exemplar of Resilience
Scholars use the term "resilient" to describe health systems that are ready to respond to crises such as hurricanes. Resilient health systems function in the face of unforeseen demands because they share these characteristics:
Awareness of potential health threats and their system's strengths and limitations
Ability to draw on redundant capacity
Established relationships and agreements with public health and community partners
Strong and flexible leadership and organizational structures
Today St. Elizabeth is an exemplar of resilience, but that was not always so.
"Many of us have grown up in this area, and we have lived with hurricanes all our lives," says St. Elizabeth's Chief Nursing Executive Paul Guidroz, MSN, RN, CNOR.
After Hurricane Rita devastated the region in 2005, St. Elizabeth's leadership realized they needed to be better prepared. They invested in a flood mitigation system, water wells, and hurricane-strength protective window film. Leaders also committed to regularly improving the hospital's disaster response plan, efforts that paid off with Harvey.
In the days leading up to the hurricane, the health system's command center in Dallas held conference calls with leaders throughout the state. When Harvey's rains reached Beaumont on Tuesday, August 29, the hospital was ready. While St. Elizabeth did not flood, many nurses were stranded in their homes, surrounded by water.
As part of the hospital's disaster response plan, nearly 100 replacement nurses and other licensed professionals were flown in from CHRISTUS facilities elsewhere in Texas and Louisiana over five days. Once onsite, these volunteer nurses were paired with staff members to ease the adjuncts' transition to a new hospital and electronic health record system.
By planning ahead, the hospital was able to remain fully operational and continue caring for patients.
Meeting the Mental Health Challenge
St. Elizabeth's knew how to handle another aspect of the disaster, too: its effect on staff nurses. One in five CHRISTUS Southeast Texas nurses lost their homes in the storm. Dealing with Federal Emergency Management Agency and insurance settlements, displacement, and loss of clothing are some of the ongoing stresses that impact their lives.
As a faith-based institution, St. Elizabeth's response included prayer circles and other types of spiritual support. And CHRISTUS Health alleviated financial stress by paying the wages of every nurse who could not get to work during the hurricane. Guidroz plans to propose a buddy system in which each nurse who lost his or her home is adopted by another nurse, for emotional support.
"Recovery," he says, "is long."
Preparation Is Key
Disasters, of course, can strike anywhere, and take many forms including terrorist attacks, climate-related events, and new infectious diseases. Veenema, the disaster preparedness expert, has practical suggestions nurses can follow so they are ready to serve in the next crisis.
When new nurses join St. Elizabeth, they are oriented to their roles in the hospital's disaster management plan, and after each disaster has passed, they are informed of changes to the plan. The hospital also engages in regular community-wide and tabletop disaster drills—practices that other hospitals, health systems, and nurses would be wise to consider adopting.