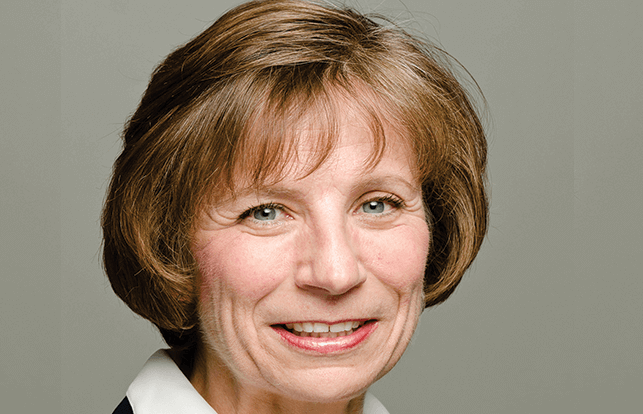 Hassmiller Becomes AAN Living Legend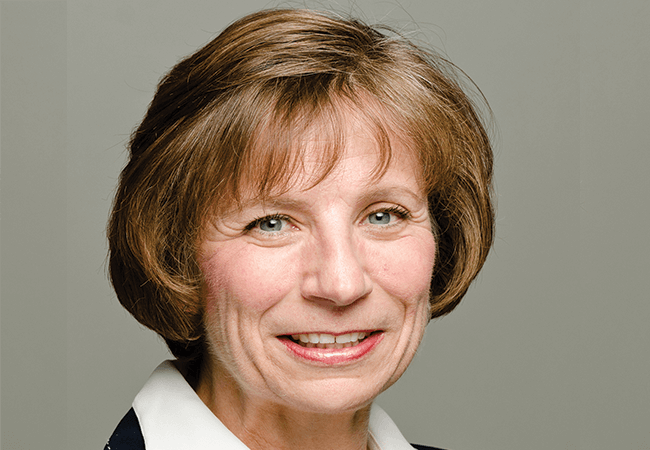 Talk about the future of the profession with any nursing school dean or chief nursing officer, and there's a name that is likely to come up: Susan B. Hassmiller, PhD, RN, FAAN.
One reason why: Hassmiller is one of just a few people to play a major role in both major "future of nursing" reports issued by the National Academy of Medicine (formerly the Institute of Medicine). Those reports are at the heart of the mission of the Future of Nursing: Campaign for Action, the national initiative of AARP Foundation, AARP and the Robert Wood Johnson Foundation that Hassmiller directs.
But that's just where things start. Many nursing leaders go on to point out the dozens of programs, trainings, speeches and other initiatives where Hassmiller has played a leading role, building the future of nursing instead of just talking about it.
Now to that long list of accomplishments is added one more: the American Academy of Nursing Living Legend award, one of the greatest distinctions in the field.
"I have worked with Sue for more than two decades in various roles," said Susan C. Reinhard, PhD, RN, FAAN, senior vice president and director of AARP Public Policy Institute and chief strategist of the Center to Champion Nursing in America, who co-leads the Campaign for Action with Hassmiller. "She is a visionary leader and role model for all nurses. Over the course of her career, she has led an unprecedented effort to galvanize the nursing profession and all who envision an ever-growing role for nursing in ensuring that everyone has a chance to be as healthy and well as possible."
Reinhard, who was one of Hassmiller's nominators for the award, continued: "Sue embodies the core commitment to place individuals and their families in the center of our science and practice, which is also a central idea of the Campaign for Action," she said.
Antonia M. Villarruel, PhD, RN, FAAN, Margaret Bond Simon Dean of Nursing at the University of Pennsylvania School of Nursing, agreed that it is Hassmiller's ability to create and then enact a national agenda for nursing that makes her unique.
"That's what has been a game-changer for the profession," she said.
The Living Legend award recognizes "extraordinary contributions to the nursing profession, sustained over the course of their careers," according to AAN. In the words of one recipient of the reward, professor and chair of the Department of Nursing at Lehman College of the City University of New York, Catherine Alicia Georges, EdD, RN, FAAN, the award is really about recognizing a "body of work."
"There is an old Negro spiritual that says, 'My work speaks for me,' and that is how I see the AAN Living Legends," she said. "Their work has spoken for them."
When asked about the qualities that enabled Hassmiller to achieve such a body of work, Georges praised her consistent focus on the good of the nursing profession in the long term. "She is somebody who is in it for the long haul," Georges said. "She's not a candle that goes in and out; she's an eternal light that is constantly there."
That light was originally kindled for Hassmiller by her work with the International Red Cross. Gail J. McGovern, MBA, president and CEO for the American Red Cross, marveled at the many roles Hassmiller has played with the group over the years.
"There is literally nothing that Sue Hassmiller can't or won't do for the American Red Cross and the people we serve," McGovern said.
That work began when Hassmiller volunteered with the Red Cross in college after the group helped locate her parents after an earthquake in Mexico. But the work soon became intertwined with her professional development as a nurse who focused on community health and disaster response.
In time, she became a member of the American Red Cross's national board of governors. In 2009 she received the Florence Nightingale Medal, the highest international honor given to a nurse by the International Committee of the Red Cross.
McGovern attested to the personal difference Hassmiller made in her time as leader of the American Red Cross.
"Sue was one of the first people I met when I joined the Red Cross more than 13 years ago," she said. "She has been a wonderful source of comfort and guidance to me over the years. Like our founder Clara Barton, she has the heart of a humanitarian, but she also has incredibly high standards, and I always strive to live up to them in every decision I make."
Hassmiller's national policy work began when she served as executive director of the U.S. Public Health Service Primary Care Policy Fellowship at the Health Resources and Services Administration. In 1997, she joined the Robert Wood Johnson Foundation, another organization where she made a generational impact.
Risa Lavizzo-Mourey, MD, who served as CEO of RWJF from 2003 to 2017, said that she and Hassmiller's relationship was characterize by "a deep mutual respect."
"Sue is tireless and tenacious," she said. "She led the charge on every effort RWJF undertook in nursing, from expanding the nursing ranks to faculty development to developing a national blueprint and the call to action to implement it. She taught a generation of program officers how to get things done using all the tools available to a large foundation."
One grantee who worked closely with Hassmiller, Patricia Pittman, PhD, argued that Hassmiller's vision enabled a new kind of analysis of nursing and its impact.
"Sue really breathed life into the role of interdisciplinary research and policy analysis of nurses and where they fit into a broader system," said Pittman, the Fitzhugh Mullan Professor of Health Workforce Equity at the Milken Institute School of Public Health, George Washington University. "Not all nurses have that perspective and open-mindedness."
But one project in particular would influence the course of the next decade in Hassmiller's life as well as the profession of nursing: the 2010 report The Future of Nursing: Leading Change, Advancing Health. Supported by a grant from RWJF, the Institute of Medicine (now the National Academy of Medicine) drew on the perspectives of an array of experts from inside and outside the nursing field. Hassmiller served as study director.
Bill Novelli, MA, who served as CEO of AARP from 2001 to 2009, was one of the committee members who worked on the report. What he remembers most about Hassmiller was her determination to produce a report that would lead to real change for nurses and their patients.
"She was the one who kept saying, 'We can't let this thing be a shelf document. We need a way to implement these recommendations,'" Novelli said.
In the following years, Hassmiller and others at RWJF partnered with AARP Foundation and AARP to design that plan for implementation: the Campaign for Action, which she leads with Reinhard.
The Campaign has pursued the objectives of the Future of Nursing report in all 50 states and the District of Columbia, making significant progress in areas such as increasing the number of nurses with advanced degrees, expanding access to care through regulatory reform, and increasing the diversity of the profession.
Reflecting upon the work of Hassmiller and the Campaign, Lavizzo-Mourey sees an impact that is greater than the sum of its parts.
"Most health care professionals now embrace nurses as equal members of the health care team, but that was not always the case," Lavizzo-Mourey said. "It took many years and a myriad of changes implemented in a strategic and concerted way. More often than not, Sue Hassmiller was a force in making those changes happen and in changing the face of nursing."
In 2019, Hassmiller was named a senior scholar in residence and advisor on nursing to the president of the National Academy of Medicine. In this role, she guided the development of a second major nursing report, Future of Nursing 2020-2030: Charting a Path to Achieve Health Equity.
While the first report focused on building capacity in nursing, this report was meant to explore how that capacity could best be used to eliminate health disparities, said Mary Wakefield, PhD, RN, FAAN, one of the co-chairs of the new report committee. As such, it involved an extraordinary range of evidence and perspectives. Furthermore, the committee decided it needed to take extra time to account for the extraordinary circumstances of the COVID-19 pandemic.
In the midst of these complex and challenging circumstances, Wakefield (also an AAN Living Legend) found herself impressed by Hassmiller's determination to "get to yes" — an essential skill for a report that is meant to be based on scientific consensus. "She could negotiate international treaties!" Wakefield said.
Several of Hassmiller's colleagues described this latest report as the culmination of a lifetime commitment to improving the health of everyone in the nation.
"What Sue has really done for the nation and the profession is lead the way in terms of thinking about how we might really address the issues of health disparities through nursing," said Linda Burnes Bolton, DrPH, RN, FAAN, vice chair of the first Future of Nursing committee and a Robert Wood Johnson Foundation board member.
Burnes Bolton, also a Living Legend award recipient, emphasized Hassmiller's inclusivity.
"She is committed to uplifting nursing for all people, all races, all colors, all attitudes," she said. "She understands the many different types of nurses and what they bring to the table."
Mary Jo Jerde, MBA, RN, FAAN, who heads up UnitedHealth Group's Center for Clinician Advancement, said she is always impressed by Hassmiller's ability to bring together many different interests together around a common cause.
"She gets the fire going," Jerde said. "She makes people want to rally around her because of her passion and commitment, whether it's about patient care, policy change or changes that are needed in nursing practice."
Hassmiller will receive her Living Legend award at AAN's Health Policy Conference, which will take place October 7-9. This year's other honorees are Betty Ferrell, PhD, RN, FAAN; Terry Fulmer, PhD, RN, FAAN; and Marla Salmon, ScD, RN, FAAN.
Benedict-Nelson is a freelance writer and Campaign contributor.