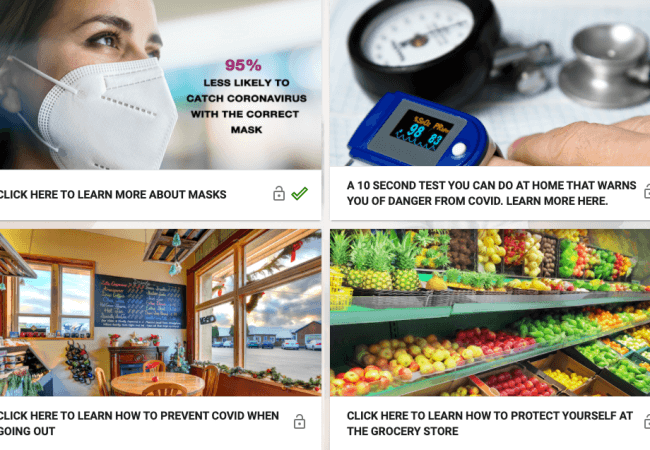 Entrepreneurs with Heart: Tom Ahrens and Natasha Dickinson
Solving problems is in nurses' DNA. When they implement a "workaround," we call them creative. When they turn that solution into a business, we call them entrepreneurs. But nurses who launch companies typically bring another dimension to these commercial endeavors: their ethos of caring. Unlike many in the business world, they are "entrepreneurs with heart."
That's the assessment of Viven Health founder Tom Ahrens, PhD, RN, FAAN. Viven Health is a nurse-led company that develops interactive simulation software aimed at educating the public on a wide range of health topics. If a nurse wants to start a business, it has to be about something more than making money, Ahrens says. That's the case with Ahrens and Viven Health's Director of Clinical Affairs Natasha Dickinson, MSN, FNP-C. The two are on a mission to engage people in improving their own health.
Ahrens is also an entrepreneur at heart. Early in his nursing career, he developed a closed-system chest-drainage unit to solve the problem of keeping lungs inflated while draining the pleural cavity that surrounds them. He obtained a patent for his invention, marking the first of several forays into business during his career. While a critical care nurse, clinical nurse specialist, and research scientist at Barnes-Jewish Hospital in St. Louis, he launched several continuing nursing education ventures. Along the way, he noticed some repeat customers attending his courses. "I knew they liked the class, but they shouldn't have had to come back a second time. The message wasn't getting across," he concluded.
The root of the problem, Ahrens believed, was the traditional lecture, his default teaching method at the time. "If people aren't engaged in learning, they're not going to retain information," he says. That lesson informed the consumer education offered today through Viven Health.
Ahrens believes the key to learning is simulation. For example, a free COVID-19-related learning module on Viven Health's website allows users to simulate placing cloth, surgical, and N95 masks on faces to see how much they reduce the risk of infection, alone and in combination. Other modules simulate the use of a pulse oximeter and teach users how to protect themselves in the home and when out and about.
The COVID-19 pandemic has made Viven Health's focus on infection prevention especially relevant this past year, but the idea to create consumer-focused learning modules sprang from an entirely different source. As a critical care nurse, Ahrens was troubled by the rate of sepsis he saw in the intensive care unit. He says that in 80% of cases, this life-threatening condition begins outside the hospital. The problem? People develop infections and wait too long to seek care.
Engaging consumers in interactive scenarios that teach them how to avoid infection in the first place is one of the reasons Ahrens founded Viven Health. Businesses, which are Viven's chief customers, see the value in this type of education. Sick days cost employers billions of dollars a year in lost productivity, so engaging employees in preventive health behaviors makes good business sense. But Ahrens has a much more ambitious agenda for his company. He wants to put its educational simulations to work to encourage healthy behaviors on a range of fronts and to reach underserved populations with critical health information.
That's where Natasha Dickinson, MSN, FNP-C, comes in. A family nurse practitioner on the brink of completing Doctor of Nursing Practice and Master of Public Health degrees, Dickinson is slated to lead this new effort. Her commitment to working with underserved populations dates back to her first patient encounters as a medical-surgical nurse at Barnes-Jewish Hospital. "I realized how much miseducation and how much mistrust there was, especially in the Black community," she recalls.
Dickinson is excited about merging her nursing knowledge and passion for public health in her current role at Viven Health. At the moment, that means enlisting trusted organizations to disseminate educational modules, which the company is developing to address vaccine hesitancy.
From there, the duo plans to take on a range of conditions—diabetes, asthma, and heart failure among them—that are highly influenced by patient behaviors. They also plan to tackle medication noncompliance, a major source of poor health outcomes, studies say. These findings dovetail with what Dickinson has observed in her own practice, providing health promotion and prevention education to older adults in their homes. "Patients don't even know what medications they're taking," she says, laying the blame on the typical 15-minute office visit, which allows little time for patient education. "We're going to empower people to take control. That's what it takes to be healthy," she says.
Back when she was on the med-surg unit, Dickinson says she saw the same patients over and over. "When they came to the hospital, I felt like we were always trying to put a Band-Aid on the situation. We weren't taking that extra time to help prevent them from coming back. We have to break that cycle," she insists. That's what this entrepreneur with heart says Viven Health's patient education efforts are all about.