BeyondRN.com – an RN to BSN website and video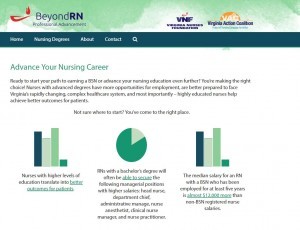 The Virginia Action Coalition launched beyondRN.com, a website designed to enable nurses who wish to obtain their BSN (or other nursing) degree to easily find information in one place. The site asks users to select their current level of education and the level they wish to achieve, and they receive immediate options for completing their degree program.
A featured highlight of beyondRN.com is RN to BSN: Success Stories, a video featuring nurses at different stages in their journey to earning a BSN.