Congratulations to Tennessee's 2023 Rising Star Nurse Leaders!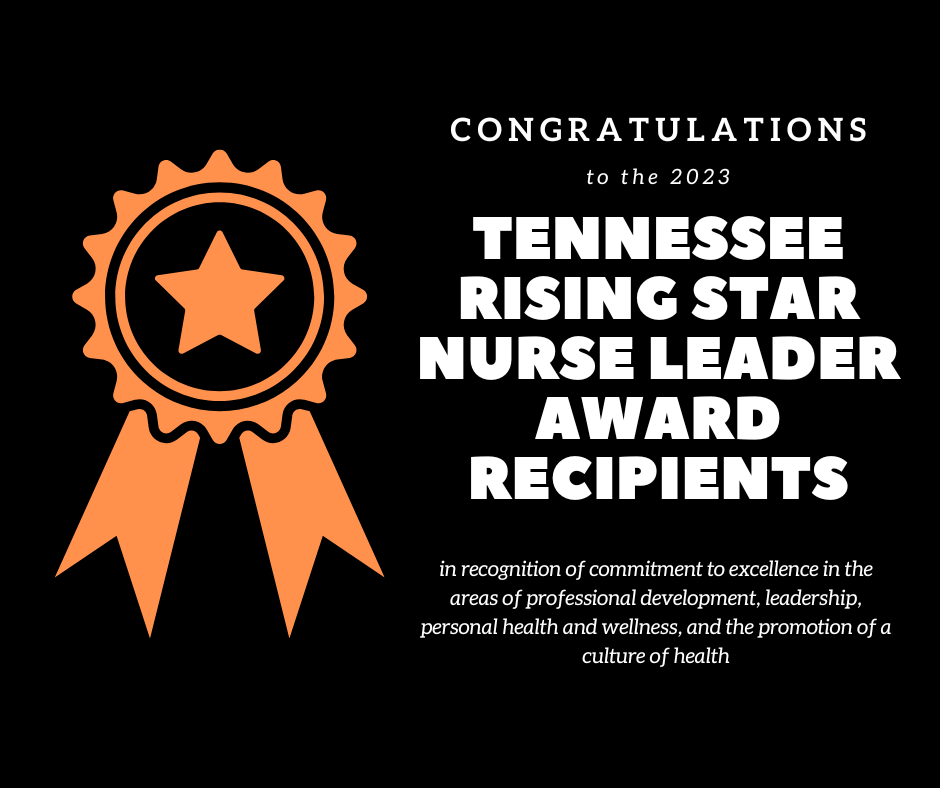 Together with the Tennessee Nurses Association and the Tennessee Hospital Association, the Tennessee Action Coalition acknowledges these young nurse leaders:
Kellie Ashburn, University of Tennessee at Martin
Erica Barnett, State of TN-TN Dept of Health
Laura Barry, UTK College of Nursing
Mindy Brown, East Tennessee State University
Jackson Butler, The University of Tennessee Medical Center
Joe Callis, Cumberland University
Helen "Maisen" Conley, Christian Brothers University
Kelcey Flagg, Cumberland University
Davena Hardison, Maury Regional Medical Center
Kacie Hauldren, East Tennessee State University
MiKayla Holloman, TriStar Skyline Medical Center
Justina Holmes, Landmark Health
Victoria Mitchell, East Tennessee State University
Kayla Norman, East Tennessee State University
Courtney Nyange, Tennessee State University, School of Nursing
Shkendie Papraniku, Loewenberg College of Nursing, University of Memphis
Shaliea M. Ratliff, Methodist Le Bonheur Healthcare
Monika Schmidt, Vanderbilt University School of Nursing
Cory Smeltzer, Monroe Carell Jr. Children's Hospital at Vanderbilt
Jenna Staggs, United Telehealth Services
Ashley Walkner, Cumberland University
John "Jake" Whicker, Cumberland University
Brittany Williams, University of Tennessee Le Bonheur Pediatric Specialists
Amanda Wrobleski, Tenet Hospital
Michelle Zuercher, Cumberland University
This is an elite group of young Tennessee nurse leaders representing the three grand divisions of Tennessee, a variety of racial and ethnic backgrounds, frontline clinicians, academicians, and managers.
The aim of the Tennessee Rising Star Nurse Leader program is to engage and empower young nurses to lead the profession in improving the health of Tennesseans.
For more information, please contact us at tennesseeactioncoalition@gmail.com.