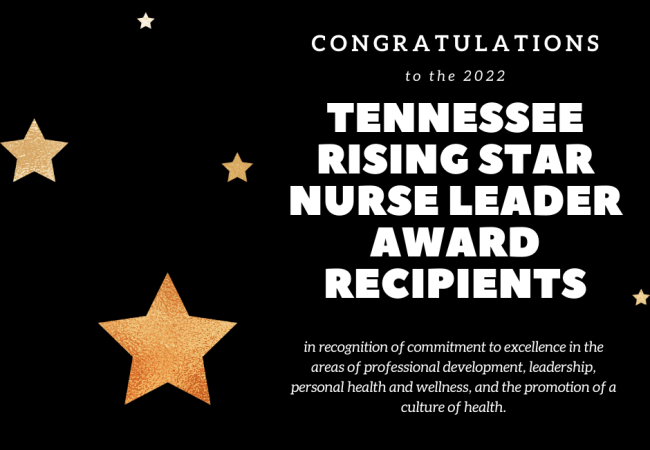 Congratulations to Tennessee's 2022 Rising Star Nurse Leaders!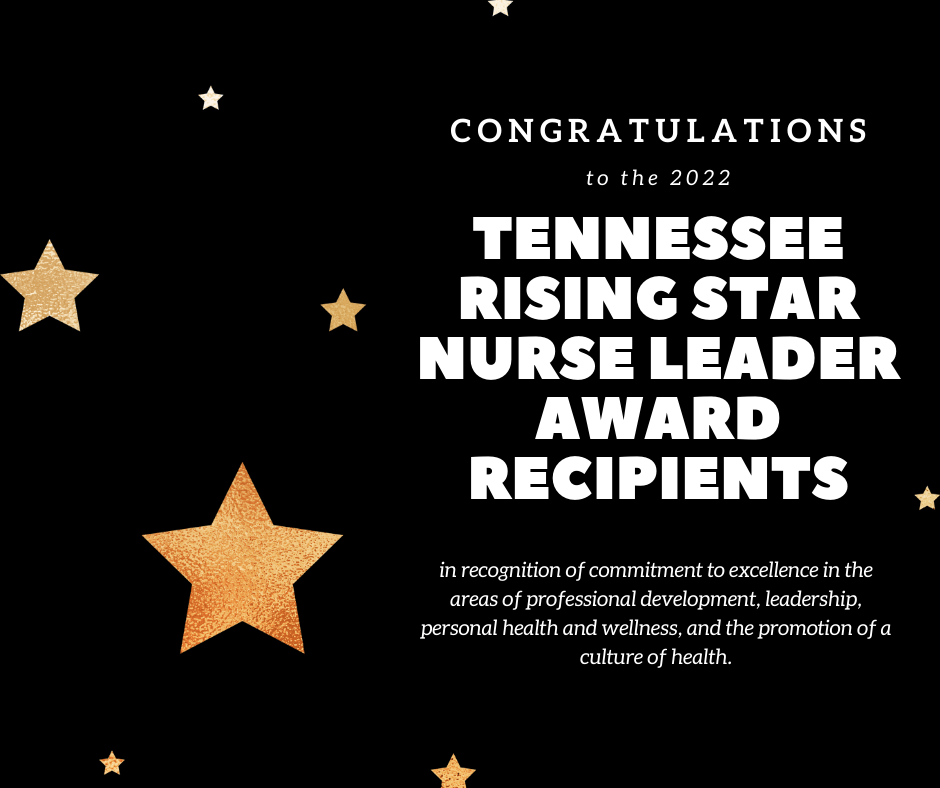 Together with the Tennessee Nurses Association and the Tennessee Hospital Association, the Tennessee Action Coalition acknowledges these young nurse leaders:
Andrea Poynter, Belmont University
Andrea Sebastian, University of Tennessee Health Science Center College of Nursing
Ashley Carter, Nashville State Community College
Ashley Marston, St. Jude Children's Research Hospital
Astrid Banegas, CHI Memorial
Brandi Pruitt, University of Memphis
Brittan Kilpatrick, Tennessee Department of Health – Hickman County Health Department
Candice Short, East Tennessee State University
Charlotte Isabel, St Jude Children's Research Hospital
Chelcie Oseni, Methodist Le Bonheur Community Outreach
Chelsia Harris, Lipscomb University
Chelsie Caperton, Southern Tennessee Regional Health System-Lawrenceburg
Christian Williams, Metro Nashville Public Health Department
Ernest Maupin, East Tennessee State University
Gabrielle Jackson, Alma Wellness Associates
Jacquelyn Dean, Vanderbilt Bedford County Hospital
Jazmine A. Rankin, Methodist University Hospital
Jerlliyah (Jay) Dotson, Vanderbilt Medical Center
Josh Hawkins, The University of Tennessee Medical Center
Julia Steed, Vanderbilt University School of Nursing
Kaleb (Tanner) Henry, The University of Tennessee Medical Center
Kathryn Dambrino, Belmont University
Lauren Moss, Belmont University/Elite Healthcare Alliance
Marisa Schultz, The University of Tennessee Medical Center
Mary Leigh Joiner, Regional One Health
Rachael Wyatt Hodges, University of Tennessee, Knoxville, College of Nursing
Rebecca R. Kojak, Cookeville Regional Medical Center
Richelle Graham, Vanderbilt University Medical Center
Shelley Lawson, West Tennessee Healthcare – Pathways
Whitney Owen, The University of Tennessee Medical Center
Zacnite Vargas, Metro Public Health Department
These individuals are part of an elite group of young Tennessee nurse leaders representing the Three Grand Regions of Tennessee, a variety of racial and ethnic backgrounds, frontline clinicians, academicians, and managers.
Selection was based on criteria determined by leaders from the Tennessee Action Coalition, Tennessee Nurses Association, and Tennessee Hospital Association; and includes leadership among peers and others, professional growth and development, contribution to building a culture of health in the community, and commitment as a role model for health.
The aim of the Tennessee Rising Star Nurse Leader program is to engage and empower young nurses to lead the nursing profession in improving the health of Tennesseans.