Three LAC nurse leaders inducted into LSNA Hall of Fame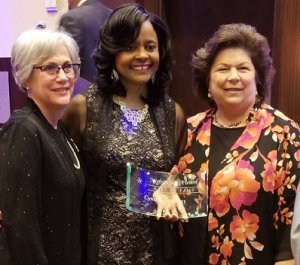 Three outstanding registered nurses were recently inducted into the Louisiana State Nurses Association (LSNA) Hall of Fame and all three are active leaders with the Louisiana Action Coalition (LAC). During the Louisiana Nurses Foundation Nightingale Gala on April 1 in Baton Rouge, Cynthia Bienemy, PhD, RN; Mary Broussard, MSN, RN; and Lisa Deaton, RN, BSN were awarded this honor.
The LSNA Hall of Fame Award recognizes a registered nurse's lifelong commitment to the profession of nursing and the subsequent impact on the health or social history of Louisiana. Those chosen for the award have practiced in Louisiana for at least 10 years and participated in LSNA, the American Nurses Association and/or other professional organizations. They have demonstrated leadership and achievement in the field of professional nursing.
Cynthia Bienemy, PhD, RN, began her 37-year nursing career in 1981 after graduating with her BSN from Southeastern Louisiana University. She has years of experience in nursing practice, nursing education at the undergraduate and graduate levels, nursing research, project planning, grant-writing, and program evaluation. She currently serves as the director of the Louisiana Center for Nursing at the Louisiana State Board of Nursing where she is charged with collecting, analyzing, and reporting on the registered nurse (RN) and advanced practice registered nurse (APRN) workforce in Louisiana. She serves as co-lead for LAC and is a member of the LAC Core Leadership Team. She also serves as the lead for the LAC Diversity Steering Committee which is responsible for the pillar of work that focuses on increasing the diversity of Louisiana's RN and APRN workforce. Bienemy is the immediate past president of the National Forum of State Nursing Workforce Centers, chair of Louisiana's Nursing Supply and Demand Council and the Louisiana Health Works Commission. She is an ANA SAMSHA Ethnic Minority Fellow Alumnus and the first graduate from the only PhD in Nursing Program in Louisiana, Southern University and A& M College (2004). Bienemy serves on multiple state and national committees and work groups.
Mary O. Broussard, MSN, RN, began her 42-year nursing career in 1976 after graduating with a BSN from the University of Louisiana at Lafayette. She received a MSN in Community Psychosocial Nursing from Southeastern Louisiana University in 1999. For more than 36 years, her work involved caring for the indigent and uninsured at University Medical Center in Lafayette, LA. While there, she worked in multiple management level positions and retired as the nurse administrator in 2012. Subscribing to her own practice of 'recycling' retired nurses, she now serves at the Region IV Action Coalition co-lead for LAC. The work of Region IV includes reaching out to the area's school system in an effort to influence males and minorities to consider nursing as a career choice. In addition, Broussard served on the board of the Woman's Foundation for 18 years. Woman's Foundation offers programs related to educating and empowering women and children on making healthy living choices and reducing the incidence of teen pregnancy.
Lisa Deaton, BSN, RN, has been a registered nurse for more than 40 years. After receiving a BSN from Southeastern Louisiana University, she began her nursing career at Earl K. Long Hospital in 1976. There she held several leadership positions and was a staff trainer, where she fulfilled a key role in educating countless RNs. In 1988 she transferred to the Licensing and Certification Division within the Department of Health and Hospitals (DHH) where she retired in 2007.  She served in a variety of positions there including director of DHH State Survey Agency. Deaton is co-founder and a board member of Louisiana Enhancing Aging with Dignity through Empowerment and Respect (LEADER), an organization aimed at championing person-centered communities where aging adults and their partners are valued, respected and honored. LEADER works with providers, consumers, regulators and policy makers to help ensure person-centered care for elderly Louisiana citizens across all healthcare settings. Deaton also has served as the Health Policy Chairman for LSNA and currently serves as the chair of LA Nurses Political Action Committee (LANPAC). She serves on the LAC Core Leadership Team and its Executive Committee and leads the work of the Regional Action Coalitions.
The Louisiana State Nurses Association began inducting nurses into its Hall of Fame in 2004. To date, 56 nurses have received this recognition. The award is limited to three honorees each year.
Photo: From left, Mary O. Broussard, MSN, RN; Cynthia Bienemy, PhD, RN; and Lisa Deaton, BSN, RN.