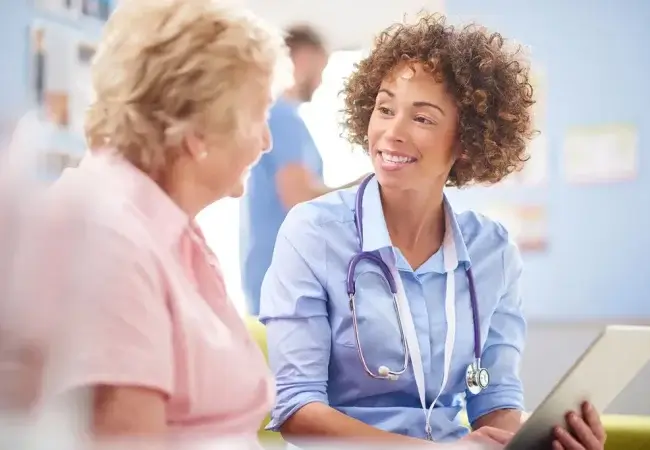 The Geriatric Workforce Enhancement Program (GWEP)
The Geriatric Workforce Enhancement Program (GWEP) grant is a 5 year program, federally funded through HRSA, focused on improving gertiatric skills and knowledge of the healthcare workforce. Stride Community Health Center is the grantee, working in partnership with the Colorado Center for Nursing Excellence and other clinical and academic sites across the state. The statewide collaborative works at all levels to impact change by both providing support, training, and education to individual healthcare professionals, as well as by supporting larger health systems in the process of organizational change.
GWEP works to permanently remove barriers to the care for older adults by assisting organizations to receive IHI certification as Age Friendly Health Systems (https://www.ihi.org/Engage/Initiatives/Age-Friendly-Health-Systems/Pages/default.aspx).
GWEP also provides ongoing opportunities for education and training around the topic of dementia, for healthcare professionals, students, and community members. GWEP staff facilitate an evidence-based, experiential training, the Virtual Dementia Tour (https://www.secondwind.org/virtual-dementia-tourreg.html), preparing individuals to better serve those with dementia. GWEP also partners with other organizations to provide a multitude of hour-long presentations on different topics, education and support for Certified Nursing Assistants, resource sharing for community members, and a day long workshop geared towards nursing students, titled Understanding and Managing Dementia, with the objective of preparing nurses to advance equity when working with patients with dementia (https://www.coloradonursingcenter.org/geriatric-workforce-enhancement-program/).
The grant also supports an annual cohort of GWEP Fellows, consisting of APRN and MSW students dedicated to pursuing work in geriatric settings after their graduation. This program provides continuous geriatric education, 1:1 coaching, and stipend support for each student.