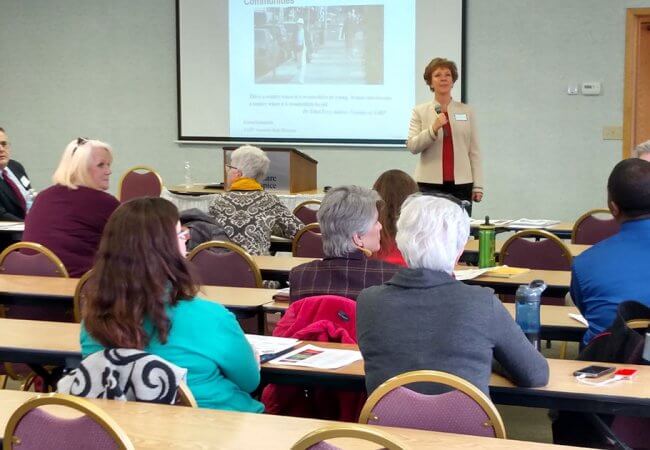 The Best Partners May Be Right in Your Own Backyard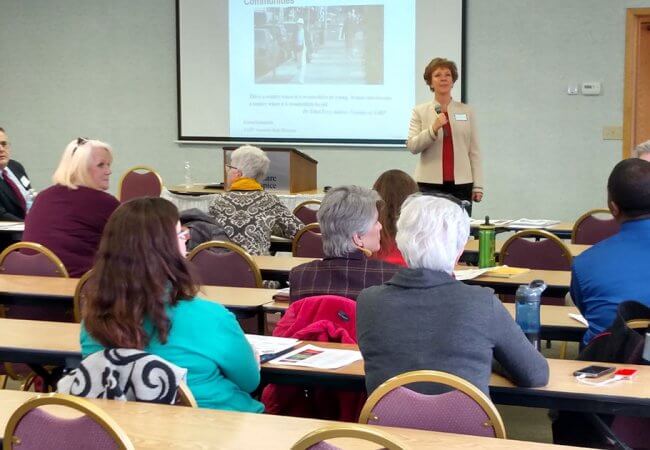 For the past few years, The Future of Nursing: Campaign for Action's state-based Action Coalitions have been partnering with local groups to build a Culture of Health in their communities.  As we know, the most effective way to do this usually involves working with organizations outside of nursing to address a common issue or problem. I'm going to tell you about a particularly powerful partnership involving AARP that perhaps you can replicate in your state.
AARP has designated more than 200 communities nationwide as part of its "Network of Age-Friendly Communities." Simply put, that means these cities or towns are well designed, promote health, sustain economic growth, and make for happier, healthier residents — of all ages. This network is an affiliate of the World Health Organization's Age-Friendly Cities and Communities Program, an international effort launched in 2006 to help cities prepare for rapid population aging and the parallel trend of urbanization. The program has participating communities in more than 20 nations, as well as 10 affiliates representing more than 1,000 communities.
Two of the Campaign for Action's Action Coalitions saw opportunity in age-friendly communities in their backyards. The New Jersey and Michigan Action Coalitions are teaming with AARP in a few of these towns to see how nurses can lead for better health.
New Jersey Action Coalition
The New Jersey Action Coalition learned about age-friendly communities in the Garden State from Stephanie Hunsinger, state director of AARP New Jersey, and an opportunity quickly presented itself.
The age-friendly community of Garfield, N.J., wanted a better understanding of its Meals-on-Wheels clients. But officials struggled to learn things like whether recipients were getting enough food, or what conditions were like in clients' homes, or whether any or many clients had mental health issues. Then the New Jersey Action Coalition realized that it had volunteer nursing students who could help.
The students used their knowledge and skills to design and produce a form to capture data for Meals on Wheels so it could collaborate with other organizations to provide additional needed services for their clients. It was a valuable assignment for the students, and a great help for Meals on Wheels.
A food pantry that is part of the age-friendly community in Elizabeth, N.J. also recognized that it needed to do more than simply provide food. The pantry staff wanted to offer clients some health education while they were visiting. This time, the New Jersey Action Coalition sent the food pantry an advanced nursing student who is now helping prepare short videos in Spanish that are focused on health issues relevant to the community, such as diabetes prevention and hypertension. The volunteer student is also working to help prepare healthy recipes to be included in the food bags the clients receive to take home.
"Nurses are interested in volunteering with programs within the age-friendly communities because they know that this is where the profession is going – into the community," says Edna Cadmus, PhD, RN, FAAN, co-leader of the New Jersey Action Coalition.
Michigan Action Coalition
When the Michigan Action Coalition heard about what New Jersey was doing, the leaders contacted Karen Kafantaris, AARP's associate state director in Michigan, who also serves on that Action Coalition's leadership team. Kafantaris educated the Action Coalition on age-friendly communities, and together they brainstormed a nurse's role in that domain. The result was a one-pager detailing how nurses can contribute to age-friendly communities in Michigan.
The opportunities for Action Coalitions to collaborate with age-friendly communities are many – reach out to your AARP state office to begin the conversation.