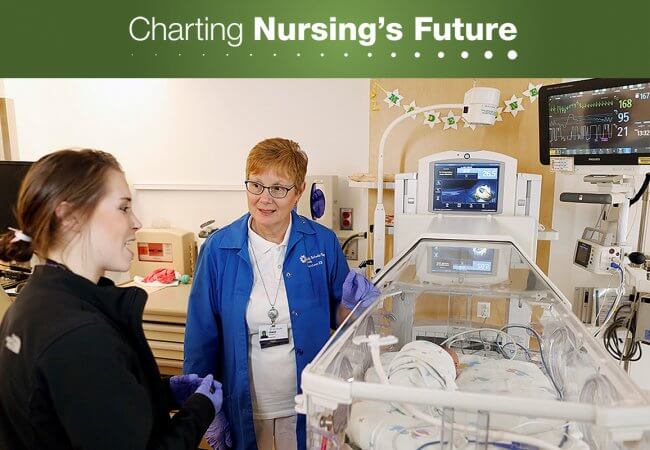 Riverside's Volunteer RNs, a Source of Knowledge and Experience
If you're a retired nurse in Columbus, Ohio, looking for a way to give back to your profession, Riverside Methodist Hospital has just the program for you. For the last decade, Riverside has run Volunteer RN, a program that includes retired nurses. The program, which placed its first volunteer nurse on a hospital floor in 2009, requires volunteers to have a current nursing license and asks them to commit to 100 hours of service over a period of a year. As a volunteer, the RNs wear their own special uniform and are permitted to perform only non-invasive tasks such as taking vital signs, ambulating patients, and calling discharged patients to follow up on their status.
Volunteer RNs fit a number of profiles. Some are looking for a foot in the door after taking time off for childrearing; others are new to the area and looking for work. But many of the volunteers are retired RNs who want to continue to be involved in their profession. Program founder and director Gerry O'Shaughnessy says one objective of the program is for more-knowledgeable RNs to serve as voices of experience on the floor.
"We tell the nurse managers that advising is something the volunteers can do," she says. "If they see a patient looking yellow and the new nurse doesn't recognize that, the volunteer can advise them to get their preceptor or manager to come in and diagnose." O'Shaughnessy adds that the volunteers can offer particular insight because they have time to talk to the patients at length—and enjoy doing so. They can share what they've uncovered with the RNs and managers who are on duty.
There are currently 15 volunteers—six of whom are retired—participating in the program at Riverside, but O'Shaughnessy says they could use 100. When asked if there is ever resistance to having a volunteer on the floor, she answers, "Never. Nurse managers welcome the service and input of the volunteers and will call me to ask, 'Do you have anyone for me?'"
Getting the program off the ground took some time—about a year, says O'Shaughnessy—because they had to work through the legalities of bringing nurse volunteers into the hospital. Once in place, however, the program has run into few hitches, with the only challenge being the inability to keep up with demand. "Everyone wants a volunteer on their floor!" O'Shaughnessy says.