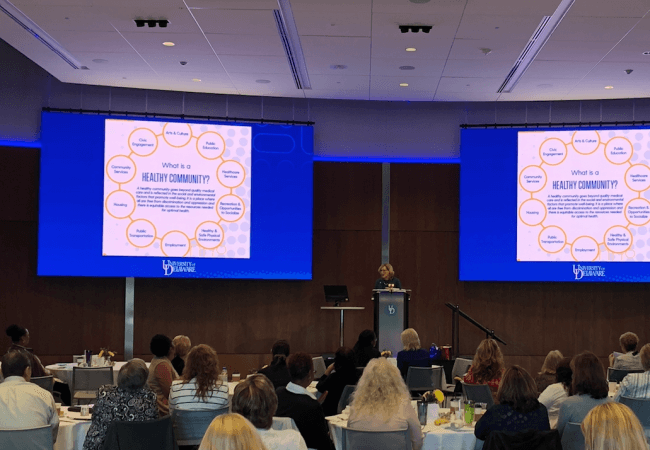 Rita Landgraf and the State of Health in Delaware
Delaware Nursing Summit 2019
This blog is the second in a series from the Delaware Nursing Summit 2019 and provides highlights from speaker, Rita Landgraf.
Former Cabinet Secretary of Delaware Health and Social Services Rita Landgraf reminded more than 100 nurses from across the state of the powerful AND broad definition of health.
"Health is a state of complete physical, mental and social well-being and not merely the absence of disease…it is a resource for everyday life…and is one of the fundamental rights of every human being without distinction of race, religion, political belief or economic and social condition" (WHO, 1948)."
Her remarks set the stage for Delaware nurses to determine a collective agenda where nurses are an essential partner in achieving health and well-being for all Delawareans.  Landgraf is the co-lead for the Delaware Nurses Action Coalition and made her remarks at the 2019 Delaware Nursing Summit on May 15, 2019.
In 2018, Delaware ranked 31st overall among US states in America's Health Rankings (AHR), which assigns a score based on a combination of health determinants and health outcomes. Factors influencing this ranking include Delaware's poor ranking for air pollution, children living in poverty and those affected by violent crime.  Delaware ranks in the bottom half of states in overdose deaths, cancer deaths, diabetes, and deaths from cardiovascular disease.  Delaware ranks 48th in infant mortality.  Delaware's low health ranking is incongruous with Delaware's #3 rank in per capita health spending.
While clinical care is vitally important, only a small portion (15–20%) of overall health and longevity is a result of clinical care.  Social, physical, and economic environments and conditions, collectively referred to as the "social determinants of health," have a far greater impact on how long and how well people live than medical care. Landgraf emphasized that health inequity is a "difference which is considered unnecessary, avoidable, unfair and unjust (Whitehead, 1992).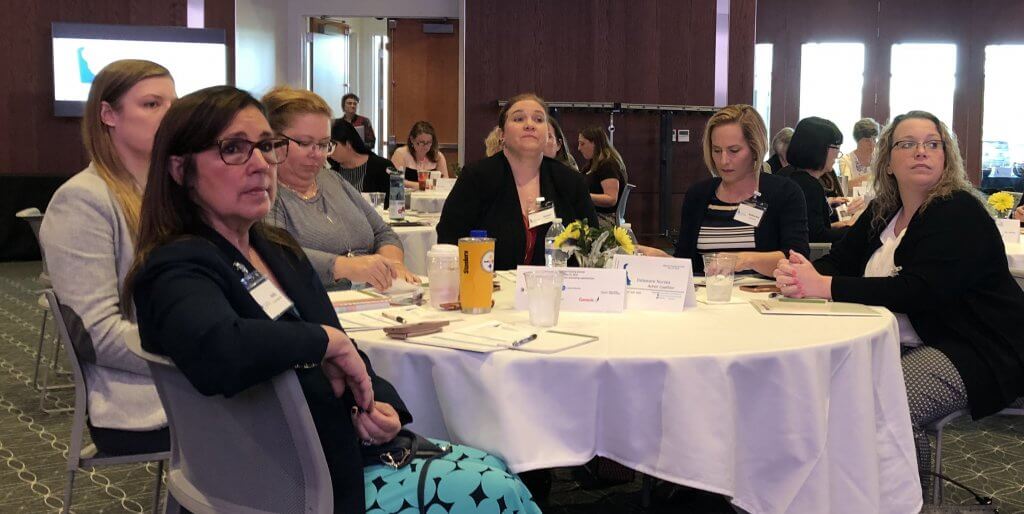 She continued noting that children whose parents have not completed high school are more likely to live in substandard housing, with exposed garbage and in neighborhoods that are unsafe.  They also are less likely to have sidewalks, parks or playgrounds, recreation centers, or a library. These environmental factors have multi-generational impacts on one's ability to achieve health and overall well-being.
Landgraf noted that a growing movement is tackling these issues in innovative ways by connecting two sectors—community development and health—that have previously worked in relative isolation from each other.  The Delaware Center for Health Innovation (DCHI), a non-profit organization of multiple stakeholders, seeks to transform health to achieve better health outcomes and better patient experiences while lowering cost. DCHI's focus has been on a payment model of care that moves away from episodic care and supports a holistic approach.  DCHI also looks to strengthen primary care, advance behavioral health integration, and actively engage patients and consumers in their care .   Healthy Communities Delaware (HCD), is an offshoot of DCHI's Healthy Neighborhoods Committee and is an intentional community model to promote health equity by aligning and investing in communities experiencing health inequities.
The Healthy Communities Data Portal, allows users to explore data about the factors that influence health. Delawareans can search health indicators by street address, ZIP code, census tract, neighborhood, town/city, county and state.  In addition, comparisons of health measures can be made between communities, or communities can compare their health measures to county or state health measures.  Data trends over time can also be examined.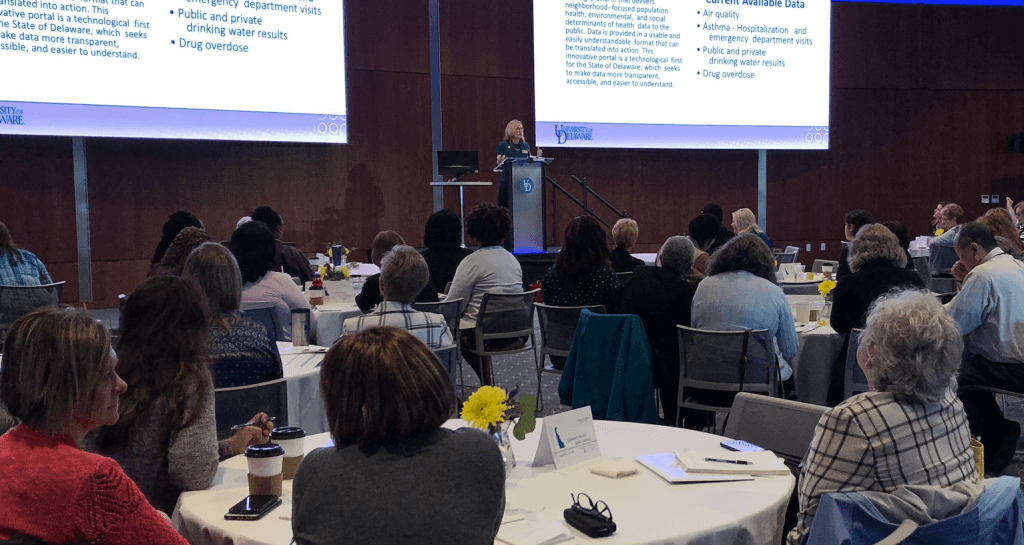 Given the state of health in Delaware and the current initiatives, Landgraf says nurses must be at the table.  In concluding her remarks, she shared a quote from Susan Hassmiller, RWJF senior advisor for nursing:
"As the healthcare professionals most actively engaged in direct patient care, nurses are positioned to provide leadership in all healthcare areas, including developing systems to reduce medical errors, improving quality, providing better care coordination, increasing access to care, and averting workforce shortages. Yet clinical experience isn't enough. To serve as successful and knowledgeable board or committee members, nurses must be familiar with governance, strategy, fundraising, financial systems, health law, and policy. Always say "yes" when asked to be at the table. If you believe you're ready but haven't been asked, then ask to be involved in a board or committee of interest."
Rita Landgraf is the Director of UD Partnership for Healthy Communities; Professor of practice and distinguished health and social services administrator in residence with the College of Health Sciences.