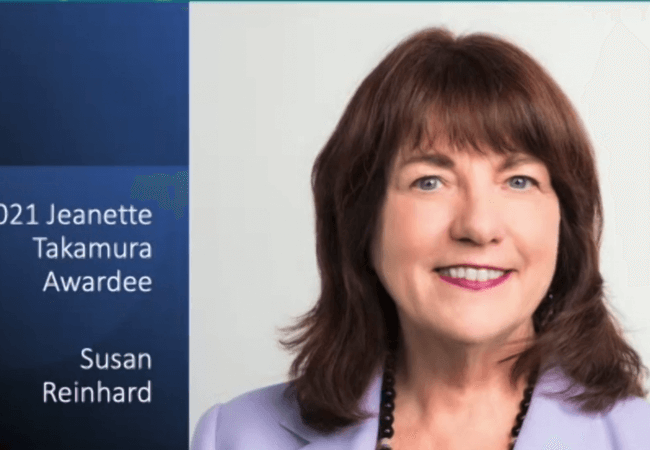 Campaign's Chief Strategist Receives National Caregiving Award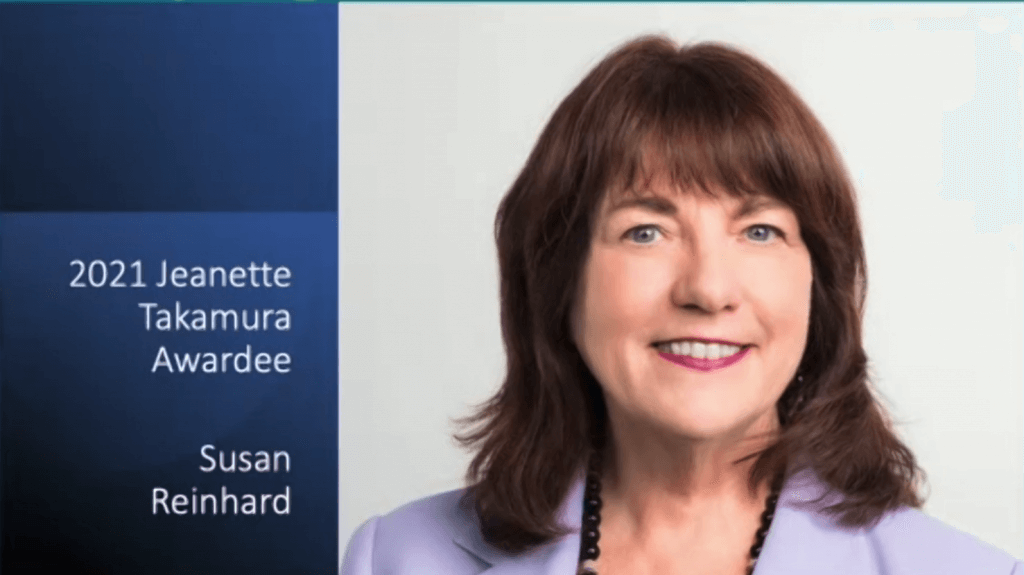 The Future of Nursing: Campaign for Action's Chief Strategist, Susan C. Reinhard, RN, PhD, FAAN, received a national caregiving award Thursday for her work leading caregiving initiatives at AARP Public Policy Institute (PPI), which she also directs.
Reinhard, a senior vice president at AARP, was honored by ADvancing States, an organization representing the nation's 56 state and territorial agencies on aging and disabilities and long-term services and supports. She received the 2021 Dr. Jeanette Takamura Caregiving Award in recognition of her exemplary leadership to support the caregivers of older adults and individuals with disabilities.
"Susan is well known to all of us in the aging and long-term services and supports field," said Nels Holmgren, vice president of ADvancing States' Board of Directors. "She has worked with so many of the states across the country to improve supports and enhance the quality of lives of both the participants and their caregivers. There is no one I know that is more passionate about caregiving, which makes her perfect for the Takamura Caregiving Award."
ADvancing States created the Jeanette Takamura Award to recognize those who work to improve the resources and supports available to help those caregivers as they assist their loved ones and help them remain in their home and communities. Takumura was the second Assistant Secretary for Aging at the Administration on Aging within the US Department of Health and Human Services from 1997 to 2001. Today she is professor and dean emerita of the Columbia School of Social Work, where she served as the School's first female dean.
Reinhard received the award at the 2021 Home and Community-Based Services Conference in Baltimore.
Reinhard is a nationally recognized expert in health and long-term services and supports policy, with extensive experience in conducting, directing and translating research to promote policy change. At PPI, Reinhard oversees teams working on health security, financial security, and family, home, and community issues, and is chief strategist for the Campaign for Action, an initiative of AARP Foundation, AARP and the Robert Wood Johnson Foundation to build a healthier America through nursing.
Reinhard currently leads a three-year initiative at the PPI called LTSS Choices, a multifaceted project with an overarching mission to catalyze the transformation and modernization of the nation's long-term care system into one that meets the dynamic needs and preferences of consumers and their families.